You might outweigh the pros and cons of Athletic Greens vs Bloom Greens. After all, they are two of the most popular green powder supplements. To make things easier for you, here is a thorough side-by-side comparison to choose the best for your goals and needs.
| | | |
| --- | --- | --- |
| | | |
| Organic Greens | | |
| Dedicated Brain Nutrients | | |
| Serving Size | 12gms | 5.4gms |
| Ingredient Dosages You Can Read | | |
| Multiple Flavors | | |
| Caffeine Free | | |
| Manufactured in the US | | |
| Third party tested | | |
| Vegan formula | | |
| Money-back Guarantee | 60-days | 30-days |
| Free Shipping Options | | |
| Cost per serving (cheapest) | $2.97 | $1.33 |
Green powder supplements are a way to boost your nutrient intake. Only 10% of the population seems to cover the daily recommended intake of fruits and vegetables (source). Such a low intake of fresh ingredients can increase the risk of nutrient deficiency and chronic illnesses.
Two popular options available on the market are Athletic Greens and Bloom Greens.
But now the question arises: which one to pick?
Here, we'll review the differences between Athletic Greens and Bloom Greens to determine the best option based on their ingredients, taste, health benefits, and pricing.
What Is Athletic Greens?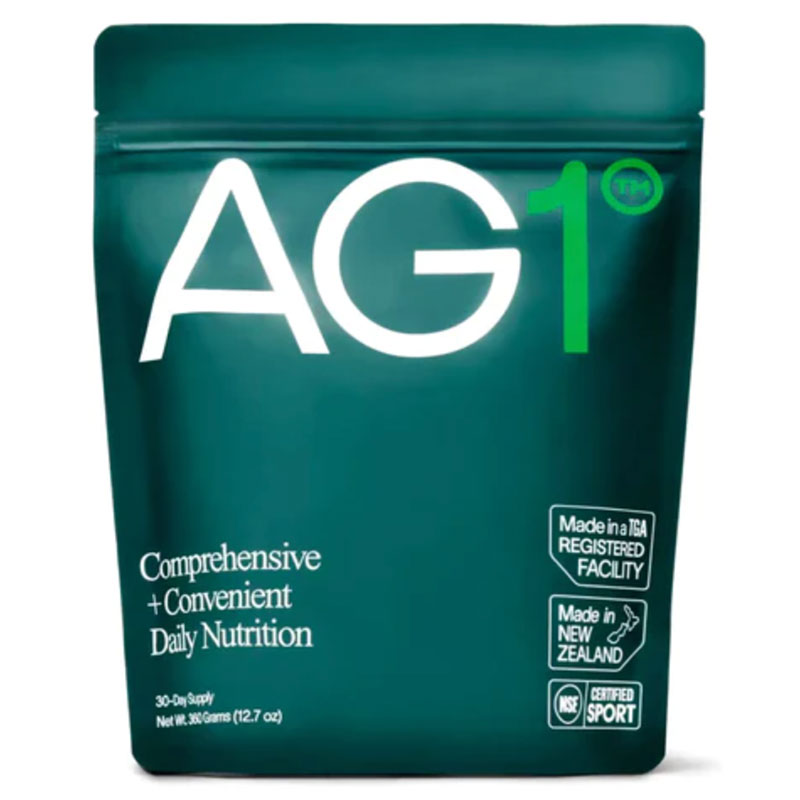 Athletic Greens (AG1) is a green powder supplement with 75 ingredients. It has been on the market for over a decade, with several transformations to make it the supplement you get nowadays.
There are different ingredients in Athletic Greens. You get a variety of vegetables, fruits, adaptogens, herbs, spices, probiotics, and probiotics to help boost overall health.
The company offers several certifications to ensure the quality and safety of their products. It is NSF-certified, meaning you are not getting any banned substances from major sports organizations. Additionally, it is third-party tested and made in the US.
While Athletic Greens have several high-quality ingredients, it uses proprietary blends. As a result, you cannot determine how much of each ingredient they use.
Pros:
Uses no artificial sweeteners, coloring, flavors, and preservatives.
Has clinically researched ingredients.
NSF-Certified for Sports.
Manufactured in the US.
Offers a 60-day money-back guarantee.
Has travel packets.
Cons:
Some ingredients might be underdosed.
Uses proprietary blends.
Only available online.
It is higher priced.
What Is Bloom Greens?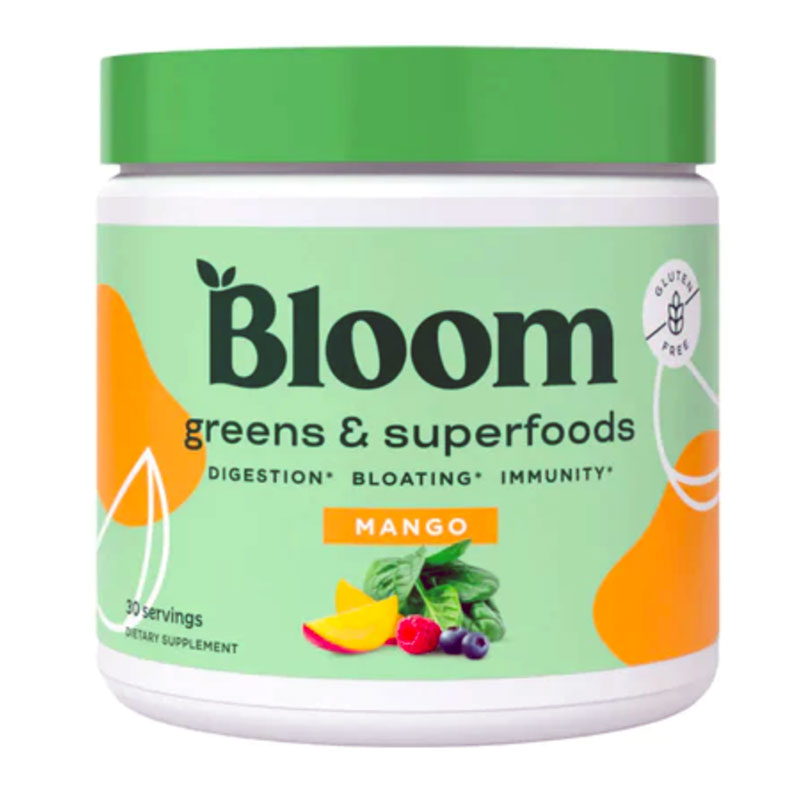 Blooms Greens is a green powder supplement made with 40 ingredients. It has different fruits, vegetables, probiotics, prebiotics, adaptogens, herbs, and spices to improve health.
While it doesn't have a long trajectory as Athletic Greens, it has been four years on the market (founded in 2019). The company's founder, Mari Llewellyn, decided to create the company after struggling with obesity.
Just like Athletic Greens, Bloom Greens also has proprietary blends, meaning you cannot determine the quantity of each ingredient.
So, if this is a deal breaker for you, other excellent green powder supplements offer a clear label. One option for you to consider is Supergreen Tonik, a clear-label green powder with 38 ingredients.
Pros:
Contains natural ingredients.
It offers five flavors to choose from.
Made in GMP-certified facilities.
Is available online and in-store.
Lower priced supplement.
Cons:
Made with proprietary blends.
Some ingredients might come in low doses.
Offers only a 15-day refund policy.
Small serving size.
Athletic Greens vs. Bloom Greens: Benefits
There are several benefits to green powder supplements. Since they can provide essential vitamins and minerals, they can improve overall wellness.
On top of that, they might provide additional benefits depending on the ingredients in the formula.
Let's take a closer look at the benefits each product can provide.
Athletic Greens
Athletic Greens provide very few calories. One scoop offers 50 calories, 6 g of total carbs, 2 g of fiber, and 2 g of protein.
Besides being a low-calorie drink, it has the following benefits.
Might improve gut health.
May enhance the immune system.
Can reduce the risk of chronic illnesses.
May decrease inflammation.
Can reduce stress levels.
Might boost energy levels.
May improve sleep.
"Replaced my AG1 subscription!"
Love that with Tonik you know exactly what you are getting; not the proprietary blend…Our family took Athletic Greens for a few years; but always wondered, " Is the product really good or are they really good at marketing?" We decided it was the marketing and switched to Tonik.
Leah, USA (February 2023)
Bloom Greens
Bloom Greens is another low-calorie green powder. One scoop has 15 calories, 3 g of total carbs, and 2 g of fiber.
Additionally, it offers the following benefits.
Might reduce inflammation.
Can improve immune function.
May improve digestion.
Can promote gut health.
Might boost energy levels.

Athletic Greens vs. Bloom Greens: Ingredients
When we analyze the ingredients in the formula, we can get a clear idea of its benefits. Additionally, knowing each ingredient's dose can help us determine if the claims made by the brand are valid.
While Athletic Greens and Bloom Green use high-quality ingredients, they use proprietary blends. This means we cannot fully determine if they come in the correct doses.
And, no matter if they have the best ingredients, they might not provide the desired results if they don't come in scientifically proven doses.
Athletic Greens
There are 75 ingredients in Athletic Greens, which is divided into four blends:
Raw superfood complex (7,388 mg): spirulina, lecithin, apple powder inulin, wheat grass, alfalfa, chlorella powder, barley, acerola, broccoli flower, papaya, pineapple, bilberry, beetroot, rose hip, carrot, spinach, cocoa bean, grape seed, green tea, licorice root, lycium berry, ginger rhizome, slippery elm, and kelp.
Extracts, herbs, and antioxidants (2,732 mg): pea protein, citrus bioflavonoids, artichoke leaf, citric acid, Rhodiola, eleuthero, rosemary, milk thistle, alpha lipoic acid, ashwagandha, dandelion, hawthorn berry, beta-glucans, policosanol, CoQ10, stevia, and vitamin K2.
Digestive enzymes and mushroom complex (154 mg): astragalus, burdock, bromelain, Reishi, and shiitake.
Dairy-free probiotics (7.2 billion CFU): L. acidophilus and B. bifidum.
Thanks to its antioxidant-rich formula, it can help reduce inflammation and the risk of chronic illnesses. Additionally, it can help improve immune function, making your body fight against any possible disease.
One positive thing about Athletic Greens is that it contains ashwagandha and Rhodiola, two powerful adaptogens that can help improve sleep and reduce stress levels (source).
The supplement contains powerful mushrooms that can help increase energy and boost performance, but they might not come in the correct doses.
According to Examine.com, the recommended dose for Reishi is 1,440 to 5,200 mg (source). However, it is found in the digestive enzyme and mushroom complex, which only weighs 154 mg.
That said, we can conclude that some ingredients in Athletic Greens might be underdosed.

Bloom Greens
Bloom Greens has 40 ingredients divided into seven blends.
Fiber blend (1,606 mg): chicory root fructooligosaccharides, organic flaxseeds, and apple fruit powder.
Green superfood blend (1,367 mg): organic barley grass powder, organic spirulina powder, organic wheatgrass powder, organic alfalfa leaf powder, and organic chlorella powder.
Pre and probiotics (648 mg): blue agave inulin, B. bifidum, L, rhamnosus, and L. acidophilus.
Fruit and vegetable blend (572 mg): organic carrot powder, beetroot powder, kale leaf powder, blueberry powder, spinach powder, broccoli powder, and ginger root extract.
Antioxidant beauty blend (550 mg): cranberry fruit powder, strawberry fruit powder, raspberry fruit juice powder, elderberry fruit extract, acai fruit extract, Goji berry, horseradish tree leaf, grape seed extract, and matcha green tea leaf.
Digestive enzyme blend (150 mg): maltodextrin, amylase, amyloglucosidase, protease, acid protease, and cellulase lipase.
Adaptogenic blend (100 mg): licorice root extract, Rhodiola root powder, American Ginseng root extract, ashwagandha root powder, astragalus root powder, and eleuthero root powder.
Like Athletic Greens, Bloom Greens has several antioxidants that can help reduce inflammation and enhance the immune system.
Additionally, it has several digestive enzymes and herbs (ginger root), which can promote good digestion.
While it contains probiotics, it is unclear how many CFUs they contain. In addition, currently, there is no evidence to determine the efficacy of probiotics in green powder supplements and their interaction with other ingredients in the formula.
Also, while it has powerful adaptogens like Rhodiola and ashwagandha, they might not come in the right doses.
The recommended dose for ashwagandha is 250 to 600 mg. But, it is found in a blend with a total weight of 100 mg, meaning it is probably underdosed.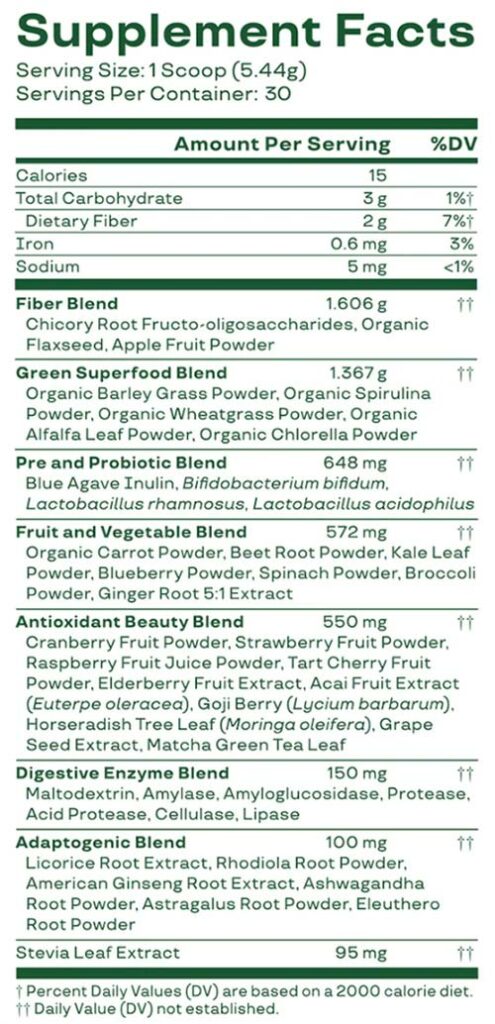 Athletic Greens vs. Bloom Greens: Taste
The taste greatly influences deciding which green powder supplement to purchase. After all, you don't want to purchase something that will be challenging to drink daily.
Or, you'll need to add other ingredients to mask its flavor (it takes away the point of being a low-calorie beverage).
When it comes to green powder supplements, you either love them or hate them.
So, while the taste is subjective, the best way to determine its flavor (before purchasing it) is to check out what people say about it.
Here are some customer reviews regarding the taste of Athletic Greens and Bloom Greens.
"Getting my daily energy dose from SuperGreen Tonik"
I'm getting my daily energy dose from SuperGreen Tonik and It helped me improve my sleep/ recovery. it's simply delicious!
Max Filippov, USA (February 2023)
Athletic Greens
It seems that Athletic Greens is a well-tolerated formula.
Most people enjoy the flavor. Some even say it's the best-tasting green powder supplement they've tasted. On top of that, people seem to enjoy its texture since it is easy to dissolve.
However, some people don't like the taste. In this case, they mask it by mixing it with coconut water or fruit.
I got this to use instead of a traditional multivitamin. I was surprised by the boost of energy it gives me in the morning, and it tastes MUCH better than I had expected (kind of green juice/matcha/vanilla taste). I just mix it in cool water in the morning on an empty stomach as directed, and it does not upset my stomach like all the other mass-produced multivitamins I've tried over the years. It is the first supplement I've ever been able to take on an empty stomach without feeling gross or nauseous, so it is perfect for a get-up-and-go morning. Leaves me feeling fresh and cleanly energized for the day. I encourage anyone who is looking for a more whole and balanced nutritional boost to try this! I will definitely be buying it again.

Margaret
Bloom Greens
One of the benefits of Bloom Greens over Athletic Greens is that it comes in five flavors. So, there is one for everybody.
You can find Bloom Greens in berry, coconut, citrus, mint, and mango flavor.
It seems that people enjoy the different flavors. They are a great way to add flavor and sweetness to your favorite smoothie.
Drinking this just makes me feel good. Such a great way to start the morning. I got the mango flavor, and it is excellent-it's very true to taste, and not artificial tasting. I was expecting the drink to be gritty or bitter, but it is nice and smooth. I just stir it into water and drink it straight, and I think it tastes amazing. But I really want to try it in a smoothie! Don't let the color freak you out. It's actually so good! I will say you will need to stir it if you let it sit too long because it'll kind of start to settle, but I'm able to mix it easily with just a spoon.

Heidi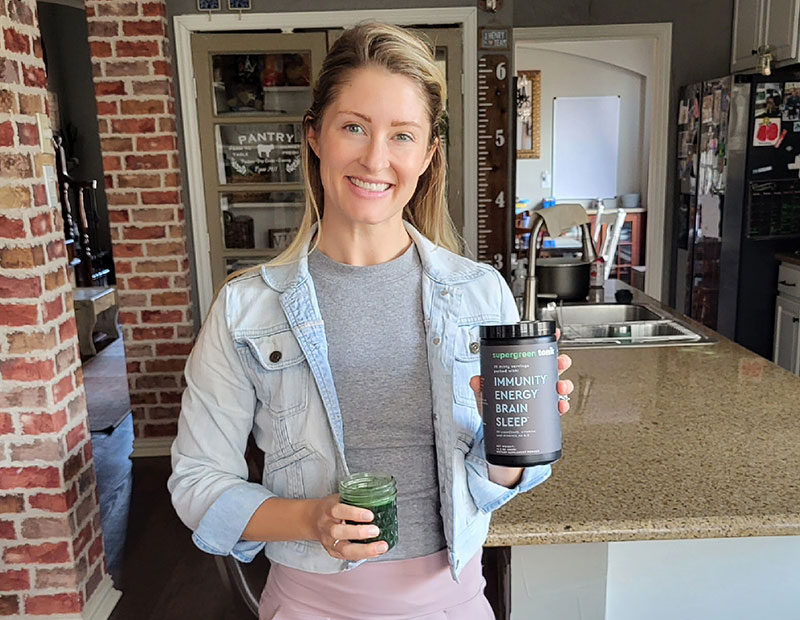 Athletic Greens vs. Bloom Greens: Cost
Green powder supplements are not cheap.
The pricing depends on the quality of the ingredients, dosage, any certifications provided by the company, additional policies (money-back guarantee or refunds), and other benefits.
There is a significant difference between Athletic Greens and Bloom Greens in pricing.
While Athletic Greens are more expensive than Bloom, remember that it has more ingredients, a larger serving size, and more certifications (like NSF-Certified for Sports).
Athletic Greens
One bottle of Athletic Greens costs $109, meaning you pay $3.63 per serving.
But don't worry, there are ways to save money.
If you enter their monthly subscription service, it lowers the price to $79 or $2.97 per serving.
If you want to save even more, you can purchase two bags per month and bring down the cost to $84.50 per bottle or $2.82 per serving.
Bloom Greens
Bloom Greens has a lower price than Athletic Greens.
One bottle of Bloom Greens costs $39.99, meaning you pay $1.33 per serving. You can buy almost three bottles of Bloom Greens for one of Athletic Greens.
Even though the price is lower, you can save more money by entering their monthly subscription service.
With it, you pay $35.99 per bottle or $1.20 per serving.
Athletic Greens vs. Bloom Greens: Side Effects
Green powder supplements are typically well-tolerated and safe to drink.
However, they might still provide certain unwanted side effects, especially digestive issues. Some people might increase the risk of bloating, gas, an upset stomach, and diarrhea.
If that is the case, cut the dose by half to give your body time to adjust.
In addition, some herbs or spices might interact with certain medications. They can reduce their effectiveness or cause negative effects. So, if you are taking medication, check with your doctor if you can take the green powder supplement.
Why Choose Supergreen Tonik?
The answer might not be that simple regarding which one to choose.
Athletic Greens and Bloom Greens lack certain qualities that make a green powder supplement stand out. For example, they both use proprietary blends and might have some ingredients with low doses.
For that reason, the best option is Supergreen Tonik.
It offers a clear label with the best ingredients in the correct doses.
Additionally, you can choose between two flavors, a 365 money-back guarantee and a more cost-effective alternative to Athletic Greens and Boom Greens.
If you still need some persuading, check reviews on Supergreen Tonik.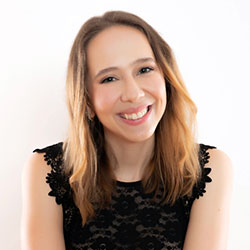 Brenda Peralta is an experienced Registered Dietitian (RDN) and Certified Diabetes Education (CDE). She is a freelance health and nutrition writer based in San Jose, Costa Rica. She has several certifications in sports nutrition, women's health hormones, and gut health.
She enjoys teaching her clients how to achieve sustainable results, all through nutritional education.