Bloom Greens is a popular green powder supplement with 7 different blends to help increase energy, boost the immune system, and aid gut health. But can it compare to a high-quality product such as Supergreen Tonik? Here, we'll provide you with a thorough comparison.
Overview
| | | |
| --- | --- | --- |
| | | |
| Organic Greens | | |
| Dedicated Brain Nutrients | | |
| Serving Size | 12gms | 5.44gms |
| Ingredient Dosages You Can Read | | |
| Multiple Flavors | | |
| Caffeine Free | | |
| Manufactured in the US | | |
| Third party tested | | |
| Vegan formula | | |
| Money-back Guarantee | 365-days | 30-days |
| Free Shipping Options | | |
| Cost per serving (cheapest) | $2.07 | $1.20 |
Important Note: Serving size is important here, Supergreen Tonik contains 120% more ingredient amounts than Bloom Greens. Adjusting for formula size, makes Bloom Greens cost more like $2.64 per serving.
Green powder supplements are ideal for people who don't have enough time to reach their daily intake of fruits and vegetables. While a supplement cannot fully compare to having fresh ingredients, it is a good way to help you get enough nutrients for the day. 
Only 9% of people eat the recommended fruit and vegetable intake. Low consumption of high-quality ingredients can increase the risk of chronic illnesses like heart disease and diabetes. (Source)
Whatever your reason for not consuming enough fruits and vegetables, green powder supplements can be a way to make it easier to reach the recommended intake.
Two popular brands on the market are Bloom and Supergreen Tonik. They both offer different flavors to mask the earthy flavor greens might provide, all while boosting overall health. However, some key factors make Supergreen Tonik stand out.
Here, we'll compare Bloom Greens vs Supergreen Tonik side by side. We'll discuss their benefits, ingredients, taste, costs, and possible side effects.
What Is Supergreen Tonik?
Supergreen Tonik is a high-quality green powder supplement created by Adam Wright. After dealing with chronic fatigue syndrome, he carefully created a formula to help him manage his symptoms. (Source)
As a result, Supergreen Tonik was born. A green powder supplement with 38 ingredients where you find 6 organic vegetables, 7 nootropics, 4 ingredients to boost immunity, and 21 essential vitamins and minerals.
On top of giving you high-quality ingredients to boost your health, it doesn't hide behind proprietary blends. You know precisely what you are getting in each serving.
Pros:
Contains all organic greens
Has 6 dedicated nutrients for the brain
Has a fully transparent label
Multiple flavors are available (mint and berry)
Third-party tested
Suitable for vegans
Offers a 365-day money-back guarantee
Free shipping on orders over $99
Cons:
Doesn't have a travel size
What Is Bloom Greens?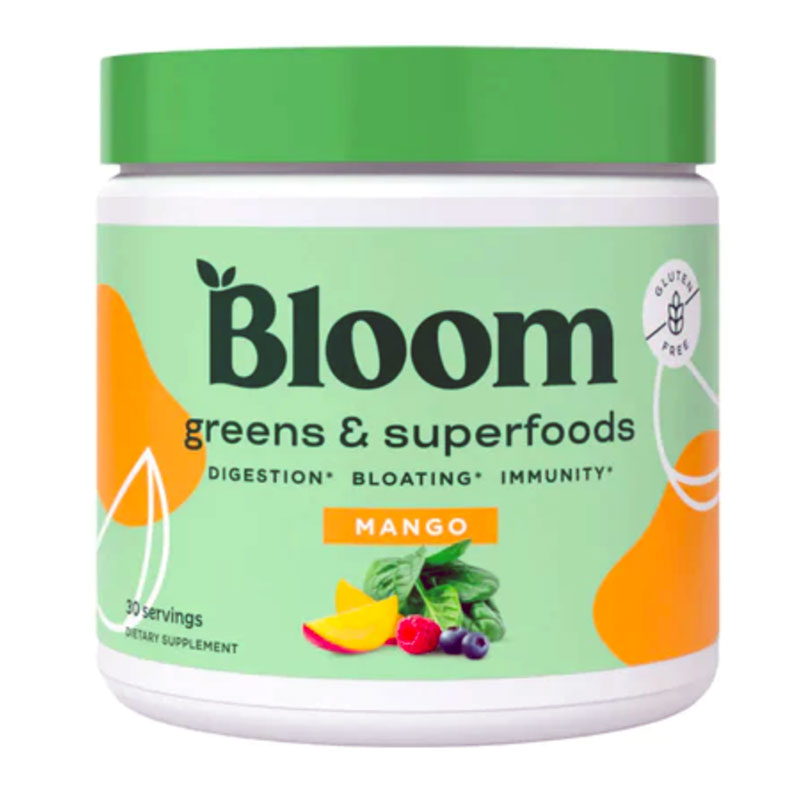 Bloom Greens is a green powder supplement by Bloom company. Bloom contains over 40 ingredients, and you can find 7 different health blends in each scoop.
One of the most significant benefits of Bloom is that it contains 5 different flavors to choose from. You can get your daily greens in berry, coconut, citrus, original, and mango flavor. So, you don't have to take the same flavor every day.
Pros:
Gluten-free, dairy-free, and soy-free
Available in multiple flavors
Made in GMP-certified facilities
Free mixer in some purchases
Free shipping on orders over $50
Con:
Has a proprietary blend
No third-party testing
Too many ingredients in a very small serving (some ingredients might be underdosed)
"Getting my daily energy dose from SuperGreen Tonik"
I'm getting my daily energy dose from SuperGreen Tonik and It helped me improve my sleep/ recovery. it's simply delicious!
Max Filippov, USA (February 2023)
Bloom vs. Supergreen Tonik: Benefits
Green powder supplements offer several health benefits. Besides making it easier to obtain your daily dose of greens, it can also improve overall well-being. And, based on its ingredients, it can provide specific benefits.
Let's go over each brand's health benefits.
Supergreen Tonik
Thanks to its 38 ingredients, Supergreen Tonik offers several health benefits. One scoop of this high-quality green powder supplement can give you the following health benefits.
Promote high-quality sleep
Improves brain function
It might decrease stress levels
Improves the immune system
Boosts energy levels
Bloom Greens
Since Bloom contains more than 40 ingredients, without a doubt, they can provide some health benefits. However, since we don't know the dosage used for the ingredients, we cannot determine the product's effectiveness.
Still, here are some of the benefits you might obtain when taking Bloom.
Helps reduce inflammation
Supports the immune system
Improves gut health
Improves digestion
It can decrease stress and improve sleep
"Game Changer"
I have taken Human Tonik Super Green for almost 2 months now. I sleep deep, have been through Flu/Cold bugs in my house which missed me. Energy Level is higher, which has motivated me to be more active.
Doug Morash, USA (February 2023)
Bloom vs.Supergreen Tonik: Ingredients 
When you take green supplements depends on their ingredients.
For example, if you have more digestive issues in the morning, adding it first thing in the morning is probably a good idea, especially if it has digestive enzymes.
Knowing the ingredients cannot only determine when it is better to take the supplement, but it can also tell you the possible health benefits.
Remember that Supergreen Tonik is the only option with a fully transparent formula. Bloom has proprietary blends, meaning you cannot determine how much each ingredient used. As a result, even though it contains good ingredients, it might have low doses.
Supergreen Tonik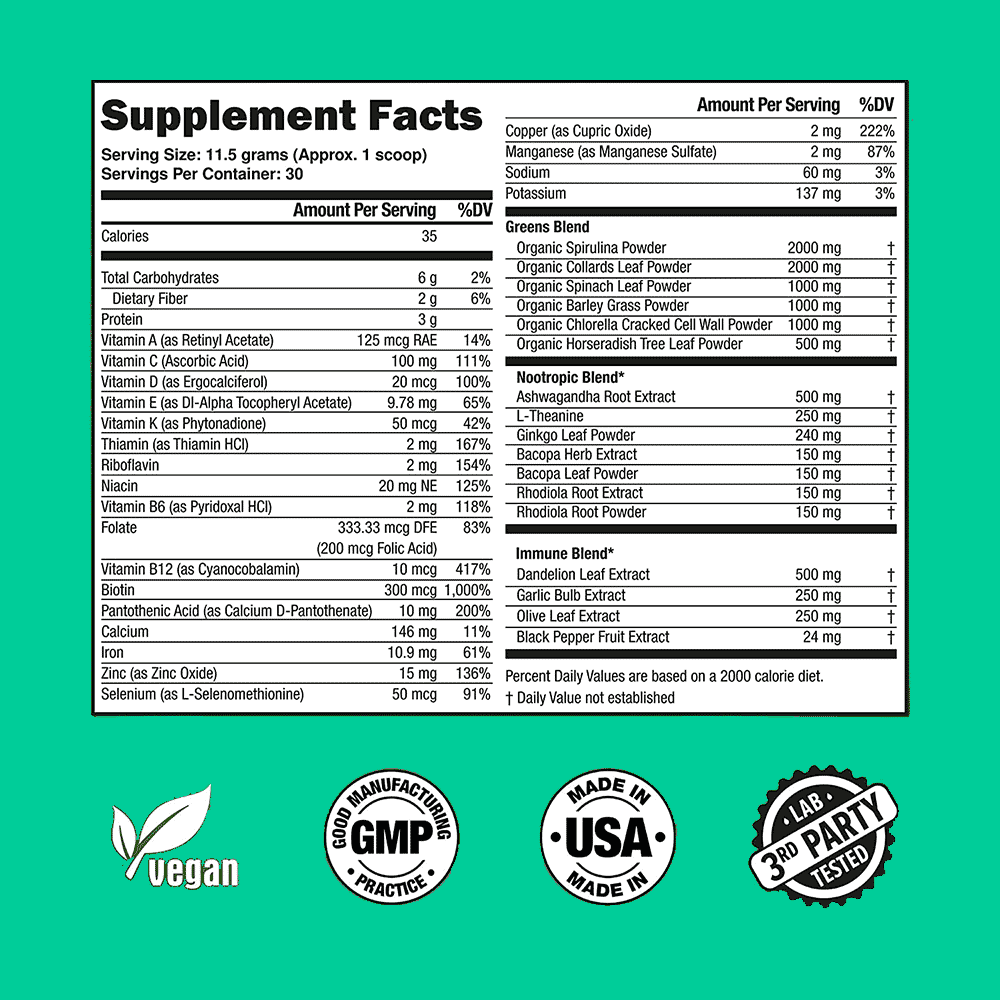 There are 38 ingredients in Supergreen Tonik, which are divided into three blends:
Green blend
Nootropics blend
Immune blend
Let's analyze some of the ingredients in this formula and what are the possible benefits according to the latest scientific research.
The green blend formula contains all organic ingredients. This blend's ingredients are spirulina, collard greens, spinach leaf, barley grass powder, chlorella, and horseradish tree leaf.
All the ingredients in the green blend are powerful antioxidants that can help decrease free radicals in the body. The high content of free radicals in the body can promote inflammation.
So, antioxidants can help decrease inflammation leading to a reduced risk of chronic illnesses.
The second formula is the nootropics blend containing ashwagandha and Rhodiola, L-theanine, ginkgo leaf powder, and bacopa herb extract.
Gingko might have a positive effect on the brain. It seems that taking ginkgo can help enhance brain function. (Source)
In addition, it seems that it can help reduce anxiety. Combined with other ingredients like Ashwagandha and Rhodiola can significantly help reduce stress. (Source)
The last blend is the immune-boosting formula, with ingredients like a dandelion leaf, garlic bulb, olive leaf extract, and black pepper fruit extract. These ingredients have antimicrobial properties and can help boost the immune system since they are powerful antioxidants.
Finally, 21 essential vitamins and minerals provide more complete nutrients than individual vitamin supplements.
So, what are those nutrients you get?
In one scoop, you get a daily dose of vitamin A, vitamin C, vitamin D, vitamin E, vitamin K, thiamin, riboflavin, niacin, folate, vitamin B12, vitamin B6, biotin, pantothenic acid, calcium, zinc, selenium, iron, copper, magnesium, sodium, and potassium.
Bloom Greens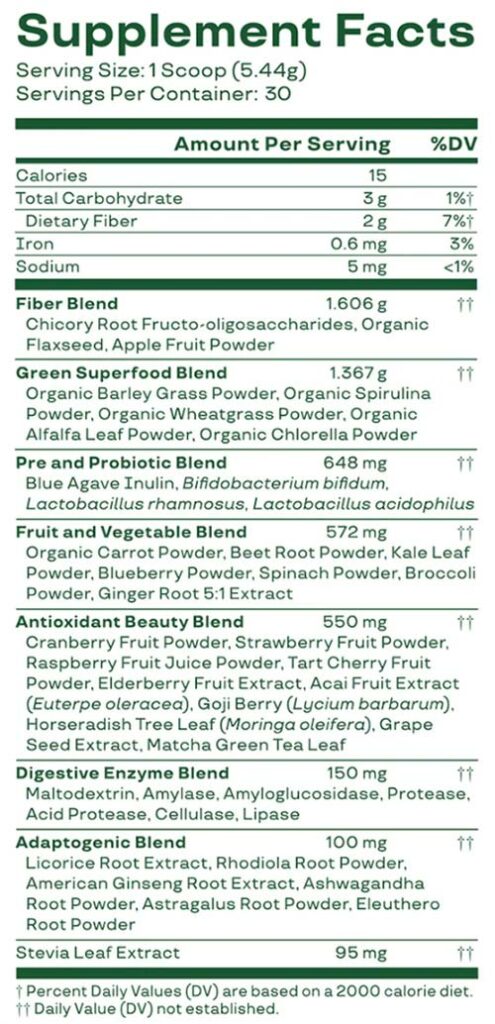 There are a little over 40 ingredients in the Bloom formula. But, while it might slightly contain more than Supergreen Tonik, we don't know how much each ingredient has.
But, since it contains a smaller serving than Supergreen Tonik, it is safe to assume some ingredients might be underdosed.
One scoop of Bloom has 7 blends:
Fiber blend
Green superfood blend
Pre and probiotic blend
Fruit and vegetable blend
Antioxidant beauty blend
Digestive enzyme blend
Adaptogenic blend
Since the formula has so many ingredients, we will analyze those that stand out.
The pre and probiotic blend might help support gut help, improve digestion, and increase the immune system.
However, it appears that probiotic supplements might not be as effective as they seem. We don't know how many of the probiotics survive, and they might interact with some ingredients in the formula. As a result, you might not get all the full benefits of probiotics.
The antioxidant blend contains ingredients like Goji berries, raspberries, and strawberries, to name a few. They can all help reduce inflammation in the body, helping reduce the risk of chronic illnesses. (Source)
Finally, thanks to its content of digestive enzymes like amylase, protease, amyloglucosidase, acid protease, cellulase, and lipase it can help break down food into more digestible foods. Thus improving digestion.
Bloom vs. Supergreen Tonik: Taste
Green powder supplements might not have the best taste. Since it contains green products, it can easily taste very earthy. There are ways to make greens powders taste good, though.
And, let's face it, nobody wants to buy something that will be challenging to drink.
So, while the taste is subjective, let's discuss this important factor when choosing a green supplement.
Supergreen Tonik
Supergreen Tonik is one of the best-tasting formulas on the market. It offers two options the mint or berry flavor. This means there is one option for everyone. If you like the refreshing option, choose the mint flavor, but for a sweeter option, go with the berry flavor.
If you want to check for yourself what people say about the formula. Here are some reviews left by customers.
I find the taste so refreshing and look forward to drinking my red tonic daily. Love the energy boost!

Sara
I love to take my Supergreen Tonik to the gym and drink it as a refresher after my workout! It tastes great and the bottle looks fab and doesn't leak so I know it's safe to carry in my gym bag!

Mandy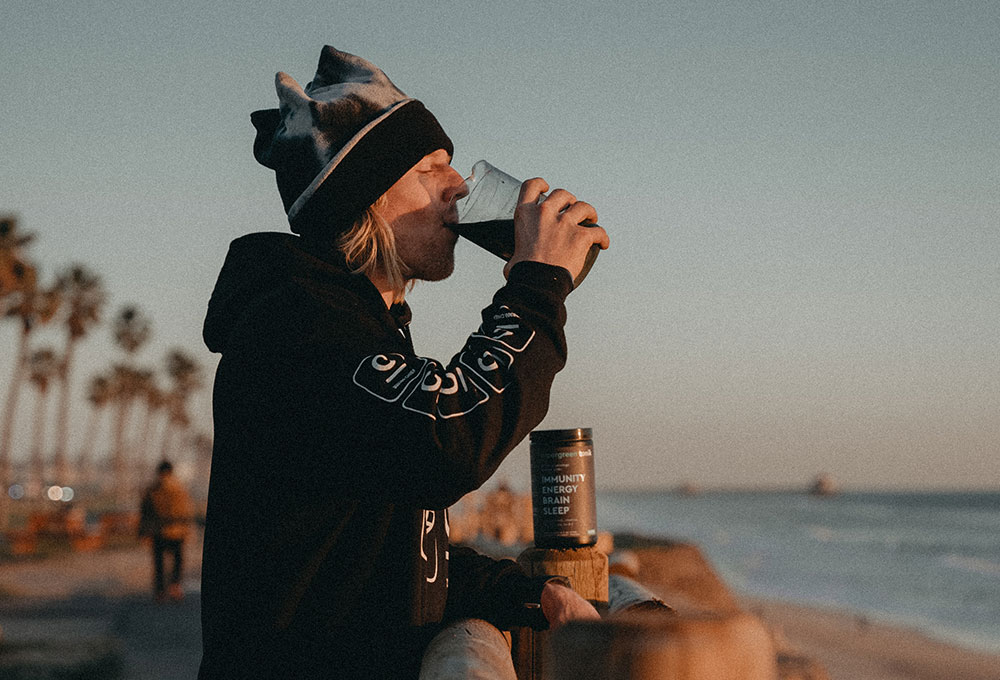 Bloom Greens
Bloom also has the option of different flavors. You can choose flavors like berry, coconut, citrus, mango, and original.
Most people like the flavors they offer. The original flavor has a light mint and sweet flavor. If this is not your cup of tea, you can choose any of the other flavors.
But what are people saying about the flavor? Here are some reviews left by customers.
Taste yummy takes away bloat and definitely does what it says! I take it every morning!

Diamond
I could not get past the taste. The Mango was there and by far could taste it but the greens smell and background taste was awful. It is unfortunate bloom does not have a policy of you like it or return it once. Many new products have this as a policy now because they are sure in their products capability of pleasing most everyone. Save yourself the money and take a supplement.

Stephanie
As you can see, there are different options regarding the flavor of Bloom Greens.
Bloom Greens vs. Supergreen Tonik: Cost
When it comes to the cost, you cannot expect to pay a low price for high-quality ingredients. The higher the quality and the more ingredients the product has, the higher the price.
Regarding the cost, how much will each supplement cost you?
Supergreen Tonik
One bottle of Supergreen Tonik costs $87, meaning you pay $2.90 per serving. But there are fantastic savings available if you buy in bulk.
For example, if you purchase a 90-day supply, meaning you pay 3 bottles, you only pay $75 per bottle ($2.50 per serving). If you want to save even more, you can opt for the 180-day supply (6 bottles) for a price of $62 per bottle ($2.07 per serving).
Do you need more reasons to buy in bulk?
You get free shipping on orders above $99. So, whether you get the 3 or 6-bottle supply, you can save even more in shipping costs.
Bloom Greens
There are two serving sizes in Bloom Greens. You can buy a 30-day supply which has a price of $39.99 ($1.33 per serving), or you can buy a 60-day supply with a price of $79.99 ($1.33 per serving).
As you can see, there are no savings whether you opt for the lower or higher supply. They have the same price per serving.
But you can save 10% if you opt for a monthly subscription.
Why does Bloom have a lower price? First, not all the ingredients are organic; while it has more ingredients, they might not have the proper doses.
Bloom vs. Supergreen Tonik: Side Effects
While it is unlikely that green powder supplements might cause side effects, they might still occur in some people. The most common side effects are gastrointestinal issues. It might increase the risk of diarrhea, stomach cramps, bloating, and cramps.
If this happens, you can cut the dose in half. Once your body is used to the dosage, you can take the full dosage.
Another possible side effect is an allergic reaction. There might be certain ingredients that cause an allergic response in some people. To avoid this, make sure you check the ingredients list.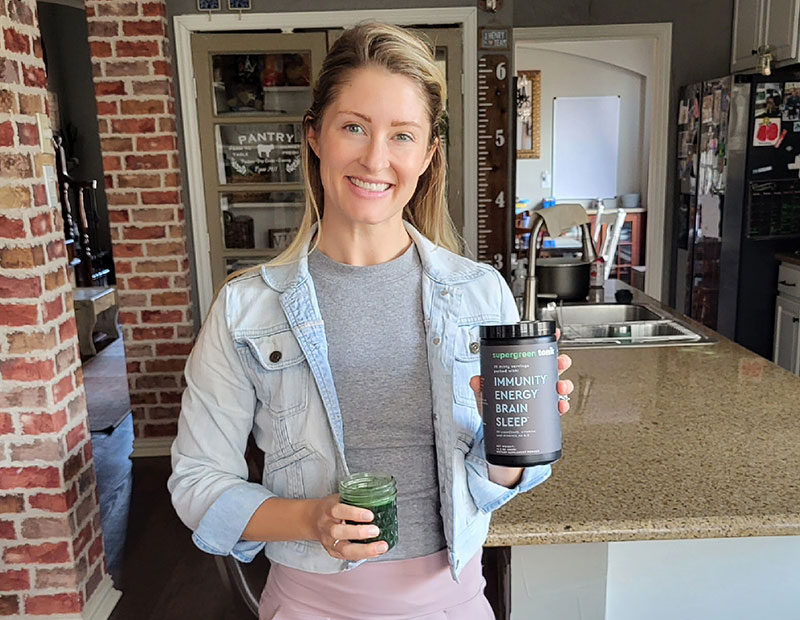 Why Choose Supergreen Tonik
Bloom seems like a good green supplement powder. However, it seems to fall short compared to a high-quality brand like Supergreen Tonik.
While Bloom has more ingredients, we don't know if they are within the recommended dosage. And, knowing that it has a smaller serving, some of the ingredients are probably not within the recommended range.
So, if you want a high-quality supplement with a 365-day money-back guarantee, Supergreen Tonik is the clear winner.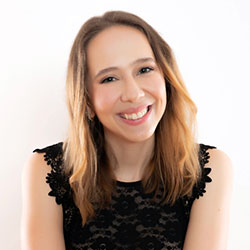 Brenda Peralta is an experienced Registered Dietitian (RDN) and Certified Diabetes Education (CDE). She is a freelance health and nutrition writer based in San Jose, Costa Rica. She has several certifications in sports nutrition, women's health hormones, and gut health.
She enjoys teaching her clients how to achieve sustainable results, all through nutritional education.