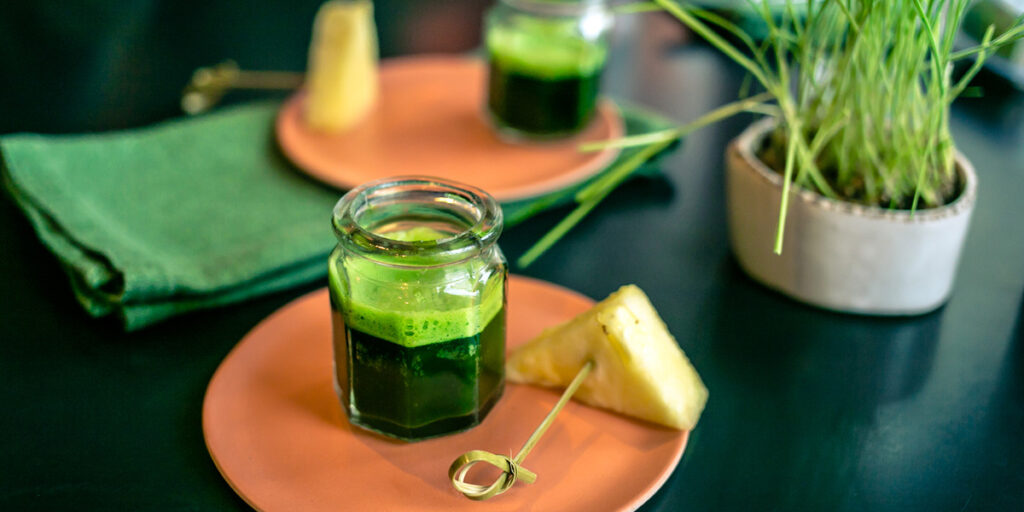 Does Chlorophyll Help With Bloating?
The popularity of chlorophyll has skyrocketed in recent years following viral online videos hailing the use of liquid chlorophyll as the cure to a long list of health benefits - including reducing bloating. In this article, we'll explore whether upping your Chlorophyll help with bloating or whether it's just another fad.
Key Takeaways
Chlorophyll is the green pigment found in green plants such as spinach, broccoli and matcha
There is little evidence to support claims that chlorophyll is effective in reducing bloating. However, it may play a role in helping to reduce intestinal inflammation which may improve overall gut health and in turn reduce bloating
The best way to include chlorophyll in your diet is through green vegetables and plants as these also include a range of other components that contribute to your health
What Is Chlorophyll?
Chlorophyll – yes that word may be ringing bells from biology class – is a pigment in plants that's involved in photosynthesis. It's what makes green plants green.
Chlorophyll is present in green vegetables and other plants like algae. The greener the plant, the higher its chlorophyll content.
Foods that are particularly rich in chlorophyll include:
Spinach
Broccoli
Green beans and peas
Parsley
Matcha
However, chlorophyll and its derivatives can also be found elsewhere. Chlorophyllin, a chlorophyll derivative, is used as a food additive and colorant.
Chlorophyllin is also the form of chlorophyll used in dietary supplements.
It is water-soluble and potentially better absorbed by the body than other forms of chlorophyll. The label on supplements containing chlorophyllin may list 'sodium copper chlorophyllin' or 'chlorophyllin copper complex' in the ingredients.
While chlorophyll supplements have been around since the 1960s, they are particularly popular nowadays, following several viral videos eulogizing various health benefits of chlorophyll, reduction in bloating is one of them.
Supplemental chlorophyll can be consumed as a liquid drink, a powder, or in capsule form. Plant juices and many greens powders also contain chlorophyll.
Although research has shown some health benefits of chlorophyll, many of the claims do not have evidence to support them.
Does Chlorophyll Help With Bloating?
One of the long list of health claims associated with chlorophyll is that it can help to reduce bloating.
Firstly, let's look at what causes bloating.
The most common cause of bloating is excess gas in the intestine.
As the bacteria in our gut break down and digest our food, they naturally produce gas. If these gasses are produced in higher amounts than normal, we can experience bloating.
Sometimes the cause of bloating can be as simple as eating too much too fast, or the menstrual cycle is another common cause of temporary bloating. But if you're regularly suffering from painful bloat, it could indicate a food intolerance or other digestive issue, such as IBS.
Despite the claims that chlorophyll is effective as a bloat-reducing supplement, little research currently supports this.
However, certain components in chlorophyll may contribute to improved gut function in general. A healthy gut can improve gastrointestinal upset and aid digestion, which in turn may help with bloating.

Chlorophyll may have a beneficial effect on gut health in the following ways:
Reducing Inflammation
Studies in animals have demonstrated the anti-inflammatory effects of chlorophyll. (Source)
One study investigating the effect of chlorophyllin on inflammatory bowel diseases (IBD) in mice found that chlorophyllin regulated inflammation and concluded that consuming green vegetables and chlorophyllin may be beneficial for IBD recovery. (Source)
Although further research is needed to investigate these effects in humans, these findings are promising.
Antioxidant Properties
Chlorophyll is an antioxidant, meaning it fights compounds called free radicals that may cause inflammation or disease in the body. (Source)
Doing this may further contribute to reducing inflammation in the intestine.
Regulation Of Gut Microbiota
One animal study found that chlorophyllin reduced intestinal inflammation and regulated gut microbiota. (Source)
A balance in gut microbiota is associated with a healthier gut and better digestion.
Overall, research into the effect of chlorophyll on bloating is scarce. There is a small amount of research into its effects on gastrointestinal health which shows that chlorophyll may be beneficial in regulating intestinal inflammation and the gut microbiota, which in turn may contribute to a reduction in bloating.
Are There Any Side Effects To Taking Chlorophyll Supplements?
Chlorophyll supplements are generally safe.
However, some people may experience some side effects when consuming chlorophyll supplements. These include diarrhea and nausea, potentially aggravating any existing intestinal issues.
If you are taking medication, check with a healthcare professional before consuming chlorophyll supplements.
However, if you're interested in upping your chlorophyll intake, the best way to do this is to increase your greens!
Eating green vegetables provides not only high amounts of chlorophyll but also includes all the other goodness of greens – antioxidants, dietary fiber, omega-3 fatty acids, vitamins, minerals, and other phytochemicals. 
Some high-quality greens powders, such as the Supergreen Tonik, also contain chlorophyll from the green veggies they include in their formula, as well as a range of other healthful components such as fibre, probiotics, vitamins and minerals.
Take a look at their label to see just what you're getting.
A lot of supplement companies mask the ingredients in their powder and the quantities of ingredients by labeling their products as proprietary blends. This makes it very hard for the consumer to decipher what exactly is in the product.
Human Tonik powders never rely on proprietary blends. All ingredients are listed individually with the amount per serving for each, giving people full transparency of ingredients and dosages.
When buying a greens powder, always look out for third-party testing and avoid proprietary blends.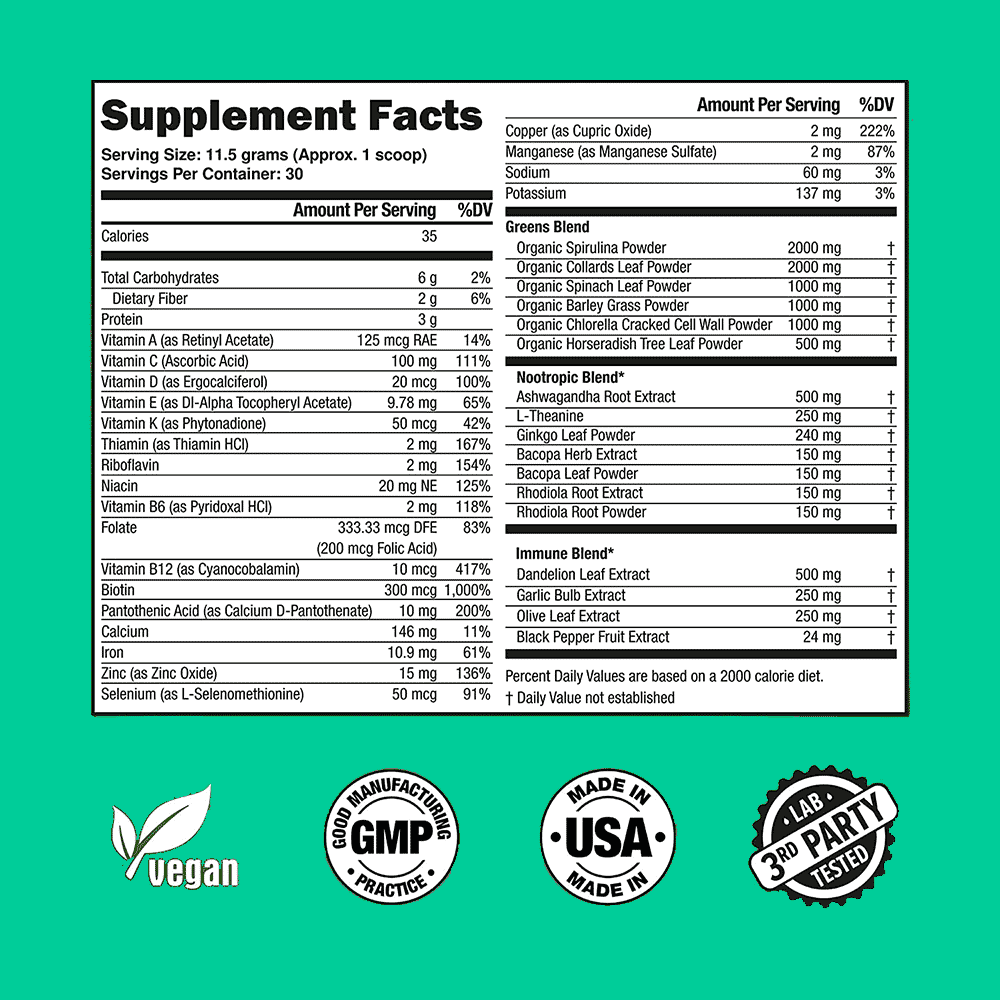 Conclusion
Although chlorophyll supplements are extremely popular at the moment, there is not much evidence to show that they are beneficial for bloating. 
Some evidence suggests chlorophyll may be beneficial in reducing intestinal inflammation, which in turn may contribute to a reduction in bloating by improving overall gut health. 
The best way to get your daily dose of chlorophyll is to increase your intake of green veggies and other whole foods that contain chlorophyll.
Some green powders include chlorophyll-containing vegetables in their ingredients too. Check the ingredients list for spinach, kale, collard greens, algae, and other green veggies.

Lucy Brennan is a registered associate nutritionist (ANutr) and freelance writer specializing in health, nutrition and wellness content. She holds a BSc. (First Class Hons) in Public Health Nutrition and has over 4 years' experience working in health communication, which is where her passion lies.
She has worked in roles with The Irish Food Board and FleishmanHillard PR, on their healthcare team, working with national and international health companies. Using this experience, Lucy now writes content in a freelance capacity. Lucy is dedicated to providing evidence-based content that is both engaging and accessible and inspires readers to make informed choices regarding their health.