Currently, more and more people are recognizing the power of green powder supplements. However, since so many options are available, most people don't know which one to choose. Here, we'll compare the health benefits, ingredients, taste, and pricing of Ghost Greens and Supergreen Tonik.
Overview
| | | |
| --- | --- | --- |
| | | |
| Organic Greens | | |
| Dedicated Brain Nutrients | | |
| Serving Size | 11.5gms | 11gms |
| Ingredient Dosages You Can Read | | |
| Multiple Flavors | | |
| Scientifically dosed | | |
| Manufactured in the US | | |
| Third party tested | | |
| Vegan formula | | |
| Money-back Guarantee | 365-days | |
| Free Shipping Options | | |
| Cost per serving (cheapest) | $2.09 | $1.24 |
Green powder supplements are a handy way to increase nutrient intake. After all, it seems that few people can reach the daily recommended intake of fruits and vegetables.
The problem with a low nutrient intake is that it can decrease immune function and increase the risk of chronic illnesses.
Nowadays, people lead very busy schedules, meaning they often don't have time to prepare fruits and vegetables. As a result, they rely on fast food options or restaurants, where the food's quality is not the best.
Green powder supplements are a convenient and easy way to get a daily dose of greens. You only need to scoop the powder, mix it into your favorite drink, and get a good dose of nutrients. On top of that, they are easy to carry around.
If you are still unsure which option to choose between Ghost Greens and Supergreen Tonik, here is a thorough comparison to help you choose the best.
Now, before we start comparing both options, remember that green powder supplements are just an addition to a healthy diet. They should never replace fresh fruits and vegetables.
What Is Supergreen Tonik?
Supergreen Tonik is a green powder supplement created by the Human Tonik company. Its founder, Adam Wright, created the supplement after dealing with Chronic Fatigue Syndrome for several years.
After extensive research, he created the well-known formula of Supergreen Tonik, a green powder supplement made with 38 ingredients that can help improve health, boost immune function, and support brain health.
The formula contains different greens, herbs, spices, adaptogens, and nootropics. In addition, one of its biggest benefits is its fully transparent label.
This means you know exactly what you are getting and at what doses.
Pros:
Offers 38 high-quality ingredients
Fully transparent label
Has two flavors available: mint and berry
Third-party tested
Made in the USA
Offers a 365-day money-back guarantee
Cons:
Doesn't have a travel size
What Is Ghost Greens?

Ghost Greens is a green powder supplement created by the Ghost company.
Ghost is a widely known supplement company that offers different options, such as protein shakes, pre-workouts, or post-workout options.
The supplement contains over 60 ingredients, where you can find different vegetables, fruits, probiotics, prebiotics, herbs, spices, and digestive enzymes.
Now, what makes this option unique is that they claim to have a combination of green and red powders. So, you are getting a green supplement and some red superfoods.
However, unlike Supergreen Tonik, Ghost Greens is made with proprietary blends, meaning you cannot determine how much of each ingredient they use.
The problem with proprietary blends is that they can mask certain underdosed ingredients.
And, no matter if the ingredient is the best, it won't provide the desired effects if it doesn't come with scientifically proven ingredients.
Pros:
Offers a wide range of flavors
Contains 3 grams of inulin
Made with 60 ingredients, some of which are organic
Provides the dose for certain ingredients
Offers a semi-transparent label
Cons:
Some ingredients might be underdosed
Uses some proprietary blends
Doesn't offer a money-back guarantee, just a refund policy
Ghost Greens vs Supergreen Tonik: Benefits
There is more to green powder supplements than simply improving overall health. Green powder supplements offer tons of health benefits.
However, the benefits that each brand offers rely on the ingredients they use.
Keep in mind that the benefits might be different for each person. So, you might experience certain benefits than others.
Now, let's dig into the possible health benefits of each green power.
Supergreen Tonik
Supergreen Tonik can provide the following benefits:
Decreases inflammation.
Improves sleep
Reduces stress.
Enhances energy levels
Makes the immune system stronger
Improves recovery
Ghost Greens
Ghost Greens might provide the following benefits:
Reduces inflammation
Improves recovery
Boosts the immune system
Improved gut health
Improves digestion
Ghost Greens vs Supergreen Tonik: Ingredients
The ingredients are what make each green powder supplement stand out over the rest.
Each brand offers a unique blend of ingredients that can help improve overall wellness.
One thing to keep in mind is that Supergreen Tonik is the only option with a fully transparent label.
While Ghost Greens detail the dosage for some ingredients, it also uses proprietary blends, meaning we cannot fully determine how much of each ingredient they use.
Supergreen Tonik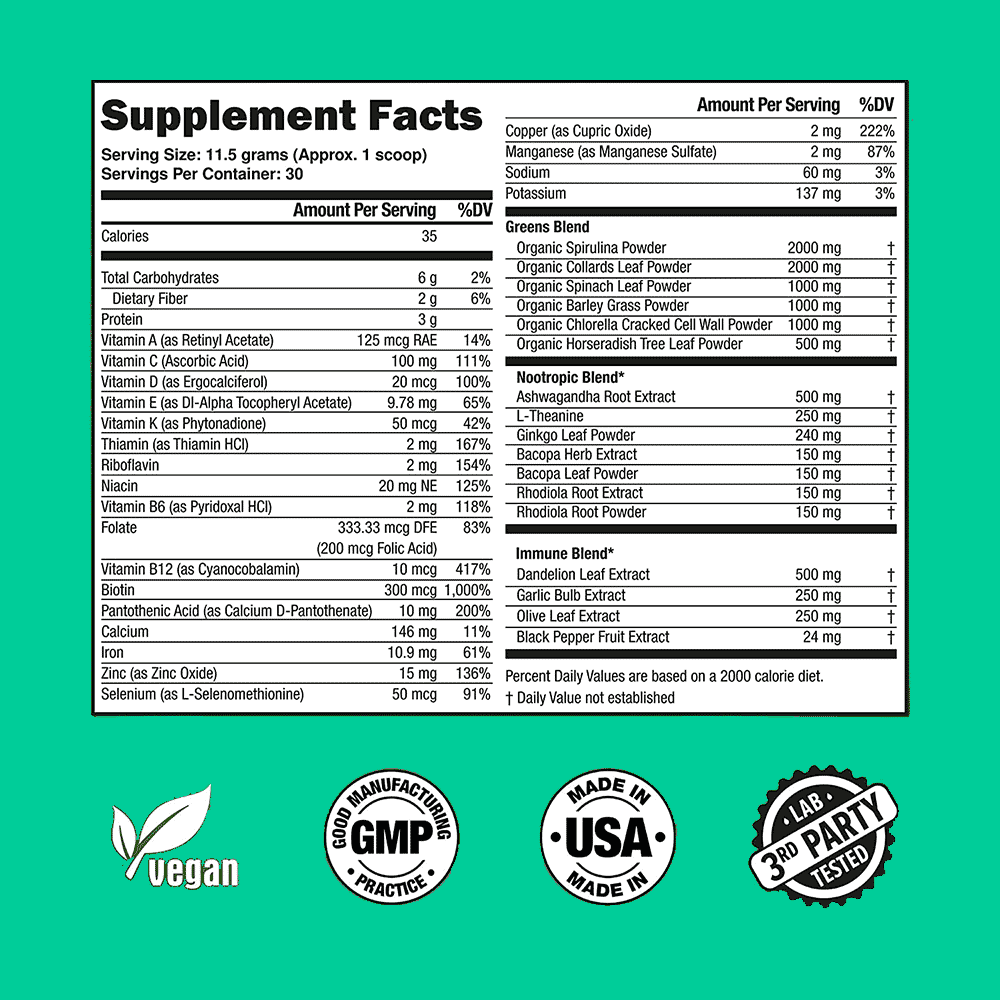 One scoop of Supergreen Tonik (11.3 g) has 35 calories, 6 g carbs, 2 g fiber, and 3 g proteins. The 38 ingredients are divided into three main blends:
Green blend (all organic ingredients): spirulina, collard greens, spinach leaf, barley grass powder, chlorella, and horseradish tree leaf.
Nootropics: ashwagandha, Rhodiola, L-theanine, ginkgo leaf powder, and bacopa herb extract.
Immune-boosting: dandelion leaf, garlic bulb, olive leaf extract, and black pepper fruit extract.
Supergreen Tonik is also a good source of essential vitamins and minerals. One scoop also offers a good dose of vitamin A, vitamin C, vitamin D, vitamin E, vitamin K, thiamin, riboflavin, niacin, folate, vitamin B12, vitamin B6, biotin, pantothenic acid, calcium, zinc, selenium, iron, copper, magnesium, sodium, and potassium.
Since Supergreen Tonik possesses several high-antioxidant ingredients, it can help reduce inflammation and decrease the risk of chronic illnesses. On top of that, thanks to its high antioxidant content, it can be a great post-workout snack to help improve recovery.
Supergreen Tonik offers a powerful nootropics formula made with ingredients such as Rhodiola and ashwagandha that can help improve sleep and reduce stress. It also contains ginkgo, which research shows can decrease anxiety symptoms. (Source)
The formula also contains ingredients that have antioxidant capacity, and antimicrobial and antiviral properties, which can help enhance immune function. As a result, it can help decrease the risk of catching a cold.
One of the benefits of Supergreen Tonik is that it has a fully transparent label. This means we can analyze if the ingredients come in clinically proven doses.
The formula supplies 1,000 mg of spirulina, and according to research, the recommended dosage is 1,000 to 8,000 mg. (Source)
So it's sage to say it is within the recommended amount.
Ghost Greens

One scoop of Ghost Greens (11 g) provides 30 calories, 7 g of carbs, and 3 g of fiber. It has over 60 ingredients, both from green and red powders.
The ingredients are divided into six blends:
Super Greens: organic matcha, organic wheat grass, organic spirulina, organic cracked cell wall chlorella, organic barley grass, organic oat grass, organic alfalfa, broccoli powder, and organic astragalus.
Antioxidants reds: acai juice powder, pomegranate juice powder, blueberry juice powder, cranberry powder, jabutica powder, camu camu juice powder, aronia fruit powder, organic noni, and organic goji berry powder.
Spectra Total ORAC Blend: coffea arabica extract, green tea extract, broccoli sprout concentrate, onion extract, apple extract, quercetin, tomato concentrate, broccoli concentrate, camu camu concentrate, maltodextrin, acerola extract, acai concentrate, turmeric concentrate, garlic concentrate, basil concentrate, oregano concentrate, cinnamon concentrate, carrot concentrate, elderberry concentrate, mangosteen concentrate, blackcurrant extract, blueberry extract, sweet cherry concentrate, raspberry concentrate, spinach concentrate, chokeberry concentrate, kale concentrate, blackberry concentrate, silicon dioxide, bilberry extract, and Brussels sprout concentrate.
Inulin
Ghost probiotics: B. subtilis, L. acidophilus, S. bourlardii, B. coagulans, and B. lactis.
Biocore Optimum Complete: amylase, protease, alpha-galactosidase, glucomylase, lactase, invertase, lipase, acid maltase, and peptidase.
Overall, Ghost Greens contains mostly fruits and vegetables with a high antioxidant content that can help decrease inflammation and reduce the risk of chronic illness.
The formula also contains probiotics which can help improve digestion and enhance immune function. For those with digestive problems, Ghost Greens contains digestive enzymes which can help reduce symptoms.
While Ghost Greens contains some proprietary blends, it does contain some ingredients that come with their respective dosage. So, let's see if they come in clinically proven doses.
Ghost Greens offers 500 mg of spirulina, but as seen before, the recommended dosage is between 1,000 to 8,000 mg. This means that some of the ingredients at Ghost Greens are underdosed.
Ghost Greens vs Supergreen Tonik: Taste
It is no secret that green powder supplements are not the best tasting. As a result, companies work hard to mask the ingredients in green powders so you don't drink an "earthy" beverage.
One benefit of Ghost Greens over Supergreen Tonik is that it offers more variety of flavors.
However, Supergreen Tonik still provides two delicious ingredients that are worth trying.
Supergreen Tonik
Supergreen Tonik comes in two delicious flavors: mint and berry.
Mint is the best option if you like a refreshing beverage, while berry is better for those looking for something sweet.
The best way to determine if a product has a good flavor and texture without having tried it is by reading customer reviews. Here are some reviews left by some customers regarding Supergreen Tonik.
"Have to say the ingredients are better than AG1 and taste much better 🙌 Much prefer the berry flavour over the minty one. Massive energy boost 20 mins after taking it. Me and the Mrs. love it! SupergreenTonik + Red Tonik = 🚀" – Simon

Ghost Greens
Ghost Greens comes in four flavors: guava, iced tea lemonade, lime, and original.
Reading through some customer reviews, the original flavor is said to be like any other green powder supplement, which can be a bit earthy.
But overall, Ghost Greens is widely accepted, and people seem to enjoy drinking the product. Here are some comments left by some customers.
"Moving on to the taste. There's not a heavy taste of greens to it! I tried a little in water, in orange juice, and in a smoothie (which is my daily go-to). At the end of the day, you'll obviously still taste something if you only drink it with water but it's tolerable. I usually throw it in a smoothie because I'm also letting myself properly take in some fruits and veggies." – Soung
"The Guava flavor is a 5 star in my opinion. The Lime flavor is not terrible but not great. Overall very satisfied with the product. Great way to get a good dose of greens for your day." – Shay
Ghost Greens vs Supergreen Tonik: Cost
Green powder supplements are not cheap, especially if they use high-quality ingredients.
There is a big difference in the pricing between Ghost Greens and Supergreen Tonik.
While Supergreen Tonik is slightly more expensive, keep in mind it has more herbs, spices, and other ingredients to boost overall health.
"Excellent greens powder"
"I used to take AG1 as my green powder, but this is on another level. Much easier on the gut and tastes sensation. Not sure if it's made a huge difference, but at least I know I'm getting what I need. Would recommend highly.
Supergreen Tonik
Supergreen Tonik offers different prices, with the prices getting lower the more bottles you purchase.
Here is the pricing of Supergreen Tonik:
One bottle: $87 ($2.90 per serving).
Three bottles: $75.67 per bottle ($2.52 per serving).
Six bottles: $62.83 per bottle ($2.09 per serving).
If you want to have a combination of greens and reds, Human Tonik offers a special bundle of greens and reds for you to purchase.
Ghost Greens
One bottle of Ghost Greens costs $44.99, meaning you pay $1.50 per serving.
While there are no bulk savings at Ghost Greens, you can save 25% if you enter their subscription savings.
So, it reduces the price to $33.74 per bottle or $1.24 per serving.
Ghost Greens vs Supergreen Tonik: Side Effects
Overall, green powder supplements are typically well-tolerated and safe to take.
However, some people might experience digestive issues when drinking the supplement. Common side effects include bloating, gas, stomach cramps, and diarrhea.
If this is the case, you can reduce the dose in half to give your body time to adjust.
In addition, there might be certain ingredients that might cause interactions with some medications. So, if you are taking medications for chronic conditions, check with your doctor before drinking any supplement.

Why Choose Supergreen Tonik
So now the question relies on which is the best green powder supplement. And the answer is pretty simple, Supergreen Tonik is the best option.
Supergreen Tonik offers a fully transparent label (not semi-transparent) and offers more ingredients, not only fruits and vegetables. In the formula, you also get nootropics, adaptogens, herbs, and spices to help reduce stress, improve immune function, and improve sleep.
Additionally, Supergreen Tonik offers two delicious flavors to try and a 365-money-back guarantee if you are unsatisfied with the product.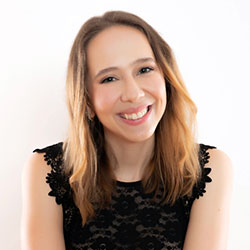 Brenda Peralta is an experienced Registered Dietitian (RDN) and Certified Diabetes Education (CDE). She is a freelance health and nutrition writer based in San Jose, Costa Rica. She has several certifications in sports nutrition, women's health hormones, and gut health.
She enjoys teaching her clients how to achieve sustainable results, all through nutritional education.