Green powder supplements are a great way to boost overall health, especially if you have a low vegetable intake. However, with so many options available, you might be confused about the best option. We look at two green greens supplements; Green Vibrance vs Supergreen Tonik.
Overview
| | | |
| --- | --- | --- |
| | | |
| Organic Greens | | |
| Dedicated Brain Nutrients | | |
| Serving Size | 12gms | 11.36gms |
| Ingredient Dosages You Can Read | | |
| Scientifically Dosed | | |
| Multiple Flavors | | |
| Manufactured in the US | | |
| Third party tested | | |
| Vegan formula | | |
| Money-back Guarantee | 365-days | 30-days |
| Free Shipping Options | | |
| Cost per serving (cheapest) | $2.07 | $2.33 |
Green powder supplements are when you turn green vegetables into fine powder. As a result, you get a nutrient-dense supplement, ideal for those who need an extra nutrient boost. 
Besides having greens, some green powders contain mushrooms, adaptogens, nootropics, or other herbs that can provide a health benefit.
Most people don't cover the daily recommendation for fruits and vegetables. In fact, according to research, only 1 out of 10 adults get the daily recommended intake of fruits and vegetables. (Source)
Seems low, right?
"Getting my daily energy dose from SuperGreen Tonik"
I'm getting my daily energy dose from SuperGreen Tonik and It helped me improve my sleep/ recovery. it's simply delicious!
Max Filippov, USA (February 2023)
And low fruit and vegetable consumption opens the door to an increased risk of chronic illnesses, inflammation, and poor gut health.
As a result, green supplements, like Supergreen Tonik, might be the solution to improve health for those with a low vegetable intake.
But, as mentioned, green powders have different formulas with different health benefits. So, when choosing one, what makes Supergreen Tonik stand out over other formulas like Green Vibrance?
Here, we'll discuss the differences between Supergreen Tonik and Green Vibrance. We'll compare their health benefits, ingredients, costs, taste, and side effects to reveal the best powdered greens for you.
What Is Supergreen Tonik?
Supergreen Tonik is a powdered supplement with 38 ingredients to increase overall health, boost energy levels, support brain function, and improve immunity. 
You get vitamins, minerals, nootropics, greens, adaptogens, and immune-boosting ingredients in each scoop.
The creator, Adam Wright, made this carefully thought formula to help reduce his symptoms of chronic fatigue. After realizing that nothing on the market could help decrease his symptoms, he came up with Supergreen Tonik. (Source)
Pros
38 superfoods, adaptogens, antioxidants, vitamins, and minerals
Fully transparent formula (no proprietary blends)
365 money-back guarantee
Clinically proven ingredients that are third-party tested
Available in 2 flavors (mint and berry)
Cons
Doesn't have a travel size option
What Is Green Vibrance?
Green Vibrance is a green powder supplement from the Vibrant Health company. It contains more than 60 ingredients. You get different cereals, fruits, vegetables, adaptogens, fiber, enzymes, and probiotics in one scoop.
The company claims its top-quality products improve your overall health, improve gut health, and support bone health.
Pros
Contains 60 ingredients in a fully transparent formula
Vegan-friendly, gluten-free, soy-free, non-GMO ingredients
Offers bulk savings
Cons
The serving size is smaller compared to Supergreen Tonik
Many ingredients in low dosages
The formula might lack stability due to probiotic content
Only one flavor is available
Some customers are not keen on the taste
Green Vibrance vs Supergreen Tonik: Benefits
Green powders offer several health benefits. However, their health benefits depend on the ingredients each company uses. So, what health benefits might you obtain from each green supplement?
Let's compare the health benefits of Vibrant Health Greens vs Supergreen Tonik. 
Supergreen Tonik
With its 38 ingredients, Supergreen Tonik packs a punch of health in every scoop. Besides improving overall wellness, there are some specific benefits you can also obtain.
Improves sleep
Promotes brain function
Boosts energy levels
Increase immunity
Reduces stress levels
Remember that everyone can have a different reaction to any supplement. However, based on the positive reviews from consumers, Supergreen Tonik seems to be one of the best options to promote good health.
Green Vibrance
Green Vibrance can also promote good overall well-being. However, since it has a different ingredient composition, it might bring other health benefits from Supergreen Tonik. Here are some of the benefits you might obtain from taking Green Vibrance.
It helps reduce inflammation
Supports gut health
Improves digestion
Reinforces the immune system
It helps improve bone and liver function
Green Vibrance vs Supergreen Tonik: Ingredients 
The ingredients are what make each green supplement stand out over the rest. While in most cases, more can be better, when it comes to green powder supplements, it is not always the case.
More ingredients might mean more interaction between each other, which can make the formula not have the function it was intended for.
Here, we'll go over the ingredients for each brand to determine the benefits based on their scientific evidence.
Supergreen Tonik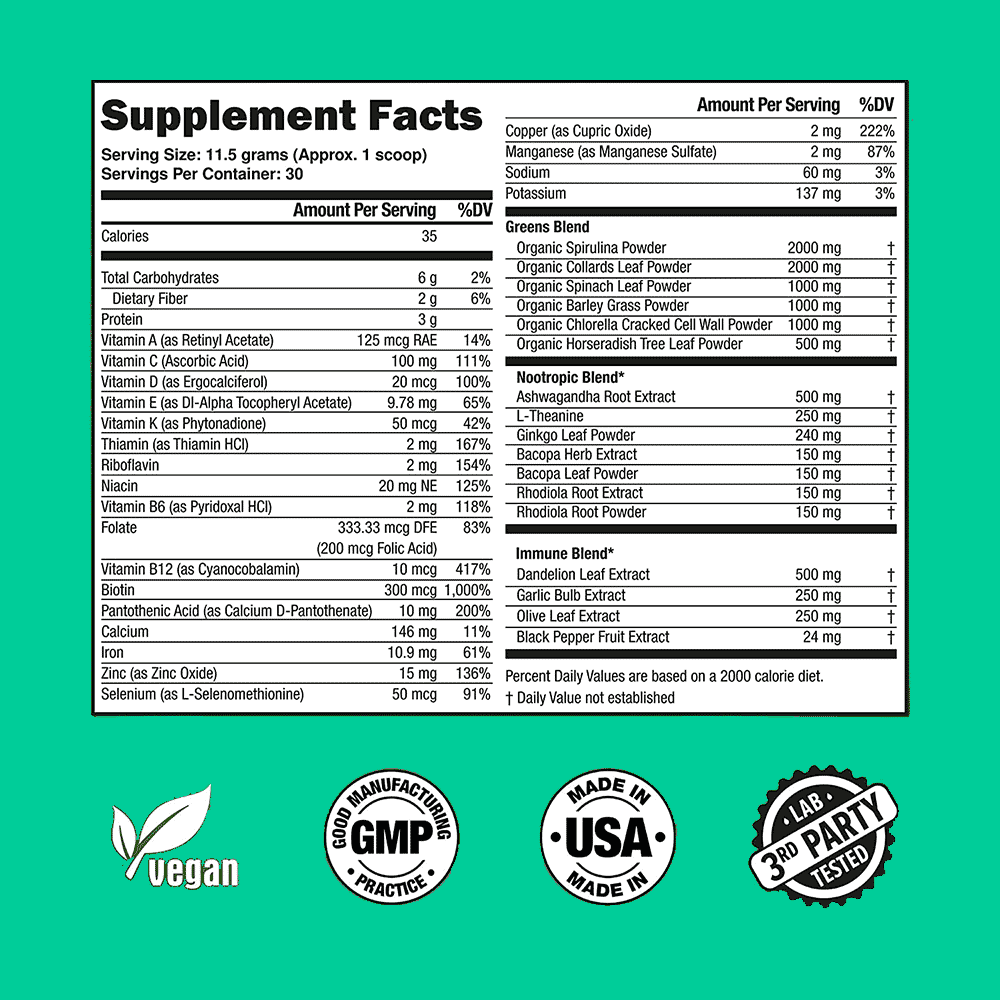 As mentioned, Supergreen Tonik contains 38 ingredients to help improve overall well-being. There are three main blends in the Supergreen Tonik formula. 
Green blend
Nootropics
Immune blend
Let's analyze the ingredients in each one.
The green blend contains all organic ingredients, which is a big plus. It has the following ingredients: spirulina, collard greens, spinach leaf, barley grass powder, chlorella, and horseradish tree leaf. 
Spirulina and chlorella are forms of algae with incredible benefits. They are high in vitamins A, B2, B1, and iron. On top of that, they are both high in antioxidants, which can help reduce inflammation in the body. (Source)
They are also a good source of omega-3 fatty acids, especially chlorella, which can help decrease inflammation and boost cognitive function. (Source)
"Game Changer"
I have taken Human Tonik Super Green for almost 2 months now. I sleep deep, have been through Flu/Cold bugs in my house which missed me. Energy Level is higher, which has motivated me to be more active.
Doug Morash, USA (February 2023)
The nootropics blend comprises ashwagandha, Rhodiola extract, L-theanine, ginkgo leaf powder, and bacopa herb extract.
Nootropics are ingredients that can have a positive effect on the brain. For example, L-theanine can help reduce stress and increase focus. Other ingredients like bacopa herb extract help improve learning and memory. (Source)(Source)
Finally, the immune blend contains essential ingredients that act as antimicrobials, help reduce inflammation and strengthen the immune system. In this blend, you can get the following ingredients dandelion leaf, garlic bulb, olive leaf extract, and black pepper fruit extract.
Green Vibrance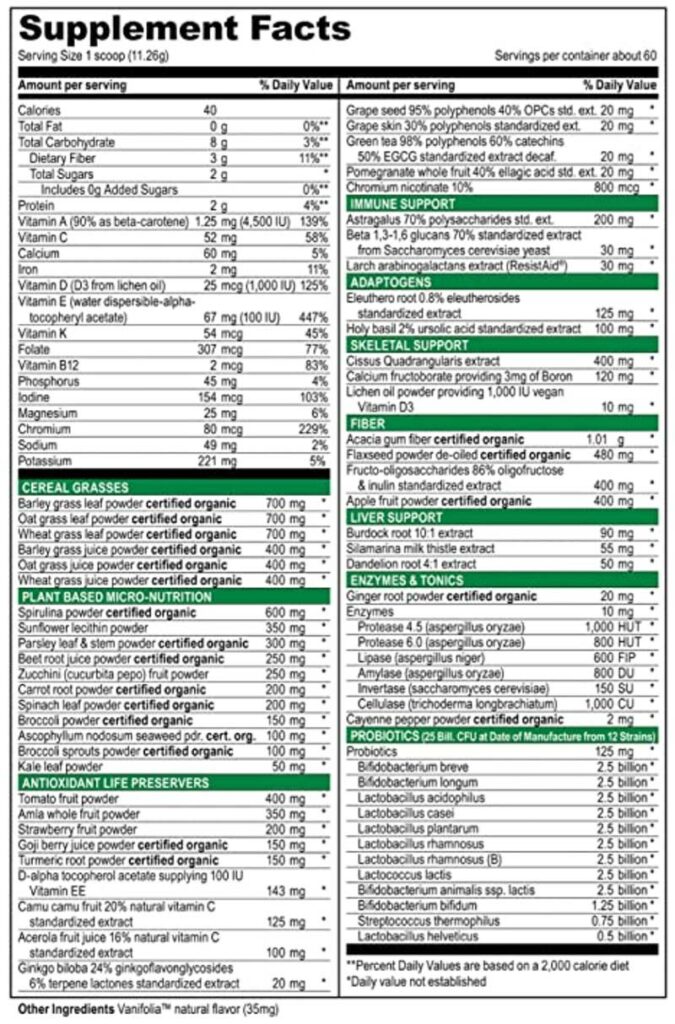 There are 70 ingredients in Green Vibrance, which might seem like a lot. With that said, sometimes more doesn't mean it is better.
Having more ingredients in a small serving could mean some ingredients are underdosed. So, let's take a closer look. 
There are 10 different blends in the Green Vibrance formula.
Cereal grasses
Plant-based micronutrition
Antioxidants
Immune support
Adaptogens
Skeletal support
Fiber
Liver support
Enzymes and tonics
Cereal grasses, plant-based micronutrition, and antioxidants are foods with high antioxidant capacity. They can reduce free radicals, which can help reduce inflammation in the body.
There are some things to stand out.
Regarding the adaptogen blend, there are only two ingredients: eleuthero and holy basil. While they can help reduce stress in the body, they cannot compare to the powerful combination of ashwagandha and Rhodiola extract (both ingredients found in Supergreen Tonik).
To check if the ingredients have the recommended dosage, we picked one and compared it to the information on Examine.com. The supplement contains 125 mg of eleuthero. However, the standard dose is 300 to 1,200 mg (source).
As you can see, it is below the recommended dosage. So, while the formula contains several ingredients, it opens the question of how many have the proper doses.
Green Vibrance vs Supergreen Tonik: Taste 
One of the most significant drawbacks of green powder supplements is their taste. Nobody wants to get up first thing in the morning, or any other time you are taking your supplement, to drink something that tastes earthy. 
So, regarding the battle of taste, which is the winner between Green Vibrance vs Supergreen Tonik? 
Supergreen Tonik
Supergreen Tonik has the benefit of coming in two different flavors. For those who like mint flavor, it serves as a refreshing beverage you can mix with water or green tea.
However, for those that don't like mint, it also comes in a berry option, masking the flavor of the green powders. Ultimately, you get a delicious-tasting formula you want to add daily.
Green Vibrance
Regarding Green Vibrance, it only offers one flavor. It's supposed to have a vanilla flavor. But, based on the reviews, this is far from the truth.
One of the most frequent concerns regarding this supplement is its taste. Due to its high content of green powders, cereals, herbs, and other ingredients, it tends to have an earthy flavor that is difficult to mask.
While taste is a very subjective matter, here are some comments left by customers on Green Vibrance's amazon website.
"I bought this product after trying multiple green powders, figured with pretty decent reviews and a high price, it had to be worth it. Biggest mistake I could of made, the after taste is horrible and tastes like I'm drinking liquid metal with grass…never tasted such a bad green powder before. Hoping I just got a bad batch or something but absolutely will not be buying again."

Justin D
"DISGUSTING! I've had many different brands of greens but this by far is the worst! I can't even bear to drink this!"

Laura
Green Vibrance vs Supergreen Tonik: Cost
Green powder supplements are not cheap and probably don't have the highest quality ingredients. Remember that the higher the quality of the ingredients and the more you find, the higher the price.
That said, some great options have a great price concerning the ingredients used. So, let's analyze the price of Supergreen Tonik and Green Vibrance.
Supergreen Tonik
One bottle of Supergreen Tonik will cost $87, meaning you pay $2.90 per serving. However, if you buy in bulk, meaning you purchase 3 or 6 bottles, the price can get lower.
If you purchase 3 bottles for a 90-day supply, you pay $75 per bottle or $2.50 per serving.
On the other hand, if you purchase 6 bottles for a 180-day supply, you pay $62 per bottle or $2.07 per serving.
Regarding shipping, Supergreen Tonik offers free shipping on orders over $99—more reason to buy in bulk.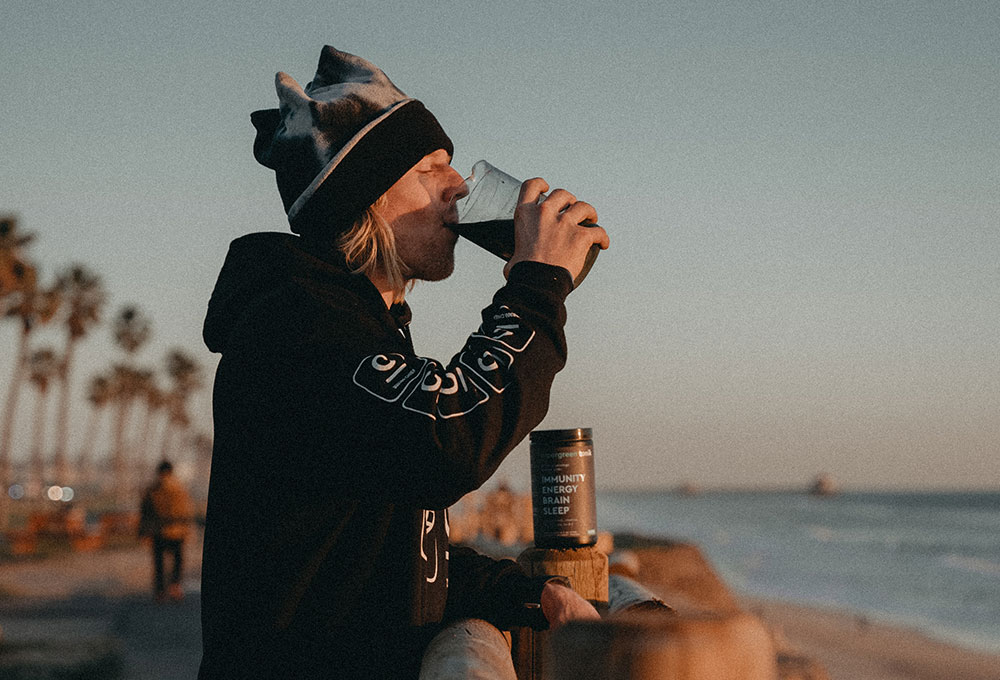 Green Vibrance
Green Vibrance's price ranges from $28 to $100 per bottle. It all depends on the amount of serving you purchase.
Here are the prices according to the number of servings each bottle has.
15-day travel pack: $28 ($1.87 per serving)
15-day serving bottle: $29.74 ($1.98 per serving)
30-day serving bottle: $52.99 ($1.77 per serving)
60-day serving bottle: $81.99 ($1.37 per serving)
83-day serving bottle: $100 ($1.20 per serving)
Remember that these prices might change depending on where you purchase them.
There is a way for you to save more on Green Vibrance. You can save 30% and get free shipping if you purchase a subscription. So the cost of the product can get lower.
Green Vibrance vs Supergreen Tonik: Side Effects
Green powder supplements are generally safe to consume. However, like any other supplement, there is the possibility of temporary side effects. The most common side effects you might experience as gastrointestinal problems like bloating, gas, stomach cramps, and diarrhea.
If you experience any of these issues, you can decrease the scoop by half until your stomach is used to the ingredients.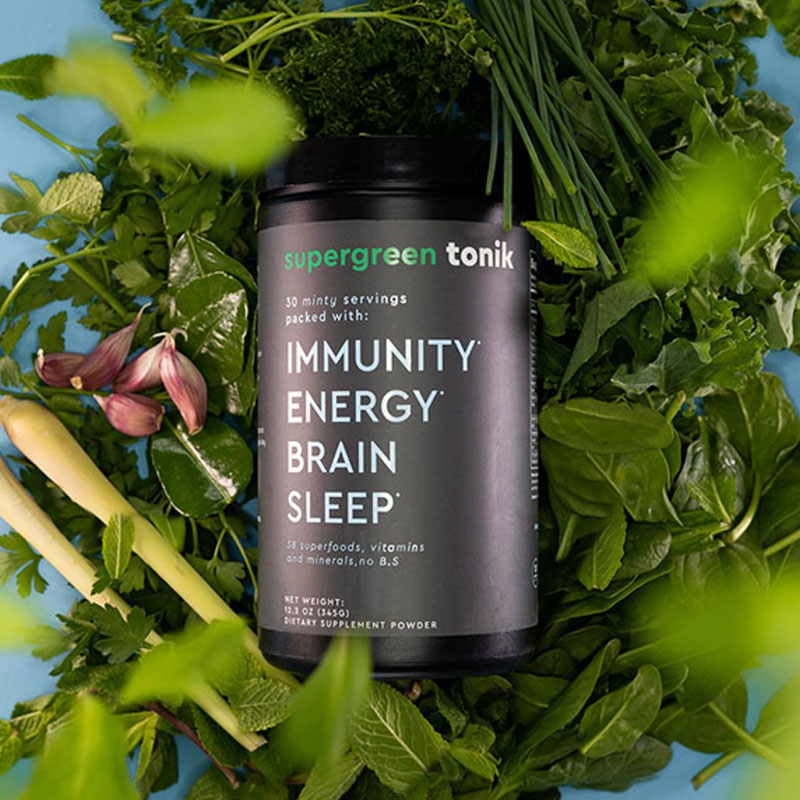 Why Choose Supergreen Tonik
So, what makes Supergreen Tonik stand out? While it contains fewer ingredients than Green Vibrance, 38 vs. 70. Supergreen Tonik contains precisely what you need, no more or less.
All the ingredients have the proper doses to provide you with the intended benefit.
As we saw, even though Green Vibrance contains more ingredients, they are underdosed, meaning it is not as powerful a formula.
Additionally, since Green Vibrance contains probiotics, it might not have such a stable composition since we don't know how many probiotics survive or how they might interact with other ingredients.
With that said, if you are looking for a formula that might help you reduce inflammation, boost your immune system, provide you with an energy boost, and improve brain function, Supergreen Tonik is the clear winner.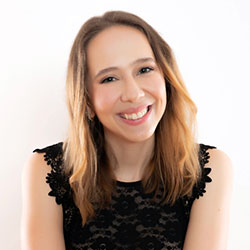 Brenda Peralta is an experienced Registered Dietitian (RDN) and Certified Diabetes Education (CDE). She is a freelance health and nutrition writer based in San Jose, Costa Rica. She has several certifications in sports nutrition, women's health hormones, and gut health.
She enjoys teaching her clients how to achieve sustainable results, all through nutritional education.