Green powder supplements are widely popular nowadays. With so many people having trouble reaching their daily nutrient intake, it makes sense to take a daily dose of greens that, in a scoop, can provide you with enough nutrients to nurture your body. Two great options are Huel Daily Greens and Athletic Greens, but which one to choose? Here, we'll compare them side-by-side so you don't have to.
| | | |
| --- | --- | --- |
| | | |
| Organic Greens | | |
| Dedicated Brain Nutrients | | |
| Serving Size | 15gms | 12gms |
| Ingredient Dosages You Can Read | | |
| Multiple Flavors | | |
| Caffeine Free | | |
| Manufactured in the US | | |
| Third party tested | | |
| Vegan formula | | |
| Money-back Guarantee | 30-days (unopened) | 60-days |
| Free Shipping Options | | |
| Cost per serving (cheapest) | $1.50 | $2.63 |
Some people think that green powder supplements are a waste of money. However, the truth is that the consumption of fruits and vegetables seems to be decreasing.
In fact, according to the CDC, only one in ten adults manages to reach the daily intake of fruits and vegetables. A low consumption of these can lead to an increased risk of disease, inflammation, and constipation. (Sources)
It seems that more and more people lack time to cook their meals, relying more on fast food places and restaurants that don't offer high-quality ingredients.
Green powder supplements are the solution to help you reach your daily intake of vegetables on the go. If you don't have enough time to prepare fresh vegetables, you can add a scoop of green powders to your favorite drink and get a nutrient boost.
Two popular options are Huel Daily Greens and Athletic Greens. But, if you must choose one, which one should you choose?
In this article, we'll review the differences between Huel Daily Greens vs Athletic Greens to help you choose one.
What Is Huel Daily Greens?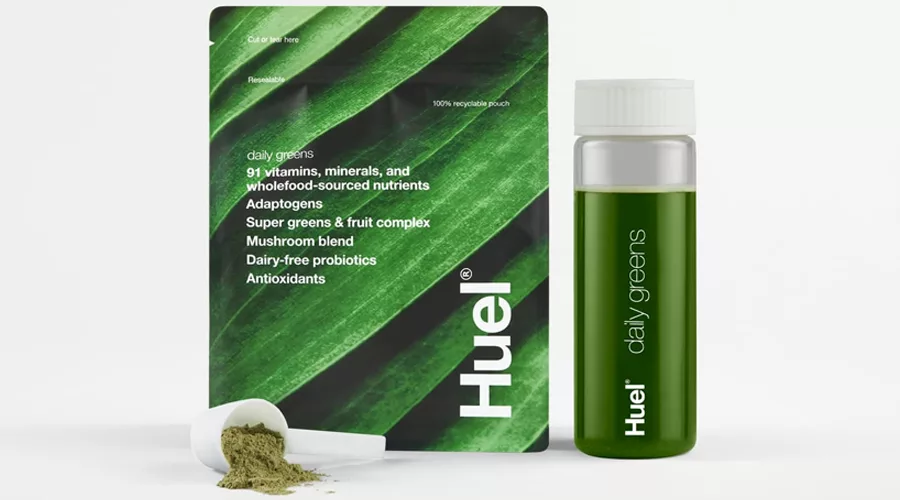 Huel Daily Greens is a green powder supplement made with 91 superfoods, vitamins, minerals, adaptogens, plant-based protein, mushrooms, and probiotics to help improve overall wellness. (Source)
The company behind the supplement is Huel (Human + Fuel), which aims to help provide essential nutrients, proteins, fats, carbs, and fiber in one product.
While Huel Daily Greens provide several benefits, one of its biggest drawbacks is that it uses proprietary blends. This means that we cannot fully determine how much of each ingredient they use.
So, while they might contain 91 ingredients, we don't know if they are properly dosed. As a result, it can mean you might not get all the intended benefits.
Pros:
Made with 91 superfoods
Offers a large serving size (15 g)
Has a good dosage of vitamins and minerals
Lower price than Athletic Greens
Cons:
Made with proprietary blends
Some ingredients might be underdosed
Only one flavor is available
Offers only a refund policy, no money-back guarantee
Doesn't have a lot of protein
What Is Athletic Greens?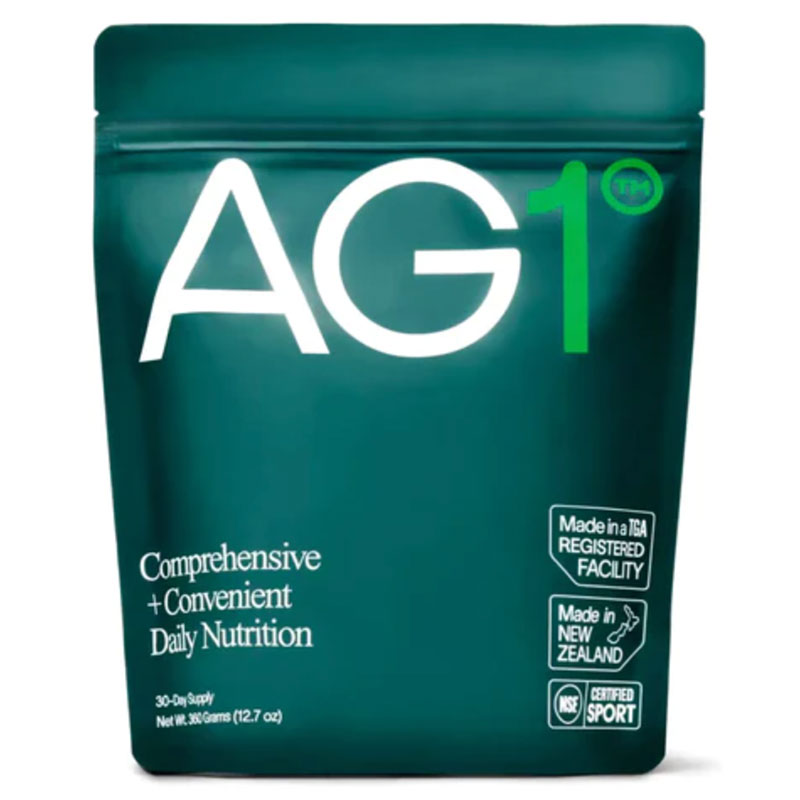 Athletic Greens is one of the most popular green powder supplements on the market. (Source)
Founded in 2010, it is a green powder supplement made with 75 ingredients to help improve overall health. The formula contains different greens, mushrooms, digestive enzymes, probiotics, herbs, and spices.
However, while it is in fact a high-quality formula, one of the biggest drawbacks (just like Huel Daily Greens) is that it contains proprietary blends.
This means that the company is not transparent with the ingredients, and we don't know how much of each they add.
Pros:
The formula doesn't contain any artificial ingredients
Made with non-GMO ingredients
Third-party tested
Made in the US
NSF-certified for sports
Has a 60-day money-back guarantee
Cons:
Made with proprietary blends
It might contain some ingredients in low doses
Only one flavor is available
More expensive than Huel Daily Greens
Huel Daily Greens vs Athletic Greens: Benefits
There are several benefits to green powder supplements. Not only can they increase the intake of fruits and vegetables, but depending on the ingredients, they might provide additional benefits.
The benefits each supplement provides rely on its ingredients. Here, we are going to compare the possible benefits of each formula.
However, remember that results might vary for each individual.
Huel Daily Greens
Huel Dialy Greens may provide the following benefits:
Decreases inflammation
Reduces stress
Increases energy levels
Improves brain function
Enhances immune function
Improves recovery
Athletic Greens
Athletic Greens might provide the following benefits:
Reduces inflammation
Improves gut health
Improves digestion
Enhances immune function
Support good sleep
Decreases stress levels
Huel Daily Greens vs Athletic Greens: Ingredients
Huel Daily Greens and Athletic Greens have different ingredients. On the one hand, Huel Daily Greens offers 91 ingredients, while Athletic Greens offers 75. But, are more ingredients better?
Now, before we dig into each brand's ingredients, remember that they both contain proprietary blends meaning we cannot fully determine if the ingredients come in clinically proven doses.
Huel Daily Greens

One scoop of Huel Daily Greens (15 g) provides 50 calories, 8 g of carbs, 2 g of fiber, 3 g of protein, and 1 g of fat.
The 91 ingredients are divided into the following blends:
Plant-based protein and superfood blend: tapioca starch, organic gluten-free oats, pea fiber, organic pea protein, flaxseed, organic mung bean protein, organic chia seeds, and organic sprouted quinoa.
Organic antioxidant greens blend: organic chlorella, organic spirulina, organic broccoli, organic broccoli sprouts, organic carrot, organic spinach, organic kale, organic nettle aerial part, organic green tea leaf extract, organic sweet fennel fruit, organic artichoke leaf, organic basil leaf, organic black garlic, organic green coffee bean extract, organic mate leaf extract, and organic calciferous marine algae.
Organic superfruit blend: organic tomato, organic coconut nectar, organic apple, organic lemon peel, organic acerola fruit extract, organic red grape vine leaf, organic small plantain leaf, organic bilberry, organic strawberry, organic raspberry, organic blueberry, organic tart cherry, organic elderberry, and organic cranberry.
Organic adaptogen and super mushroom complex: organic ashwagandha root, organic Rhodiola root extract, organic Siberian ginseng root, organic lemon balm leaf, organic marshmallow root, organic maca tuber, organic white ginseng root, organic red ginseng root, organic ginger root, organic maitake mushroom, organic shiitake mushroom, organic reishi mushroom, and organic cordyceps militaris mushroom.
Organic botanical blend: organic cinnamon bark, organic burdock root, organic dandelion root, organic Echinacea aerial part, organic hawthorn flowering top, organic hibiscus flower extract, and organic lemongrass leaf.
Probiotics: Bacillus Coagulans and Bifidobacterium Bifidum.
Overall, Huel Daily Greens contains several ingredients with high antioxidant content. They can help reduce free radicals, which helps reduce inflammation.
It also contains other interesting ingredients, such as ashwagandha and Rhodiola root, which can help reduce stress and promote a good night's sleep. (Source)
In addition, it also contains some herbs and spices like cinnamon which can help regulate blood glucose levels, and Echinacea, which might help improve immune function. (Source)(Source)
One thing to point out is that while the formula has added proteins (like pea protein), the formula doesn't offer a lot of protein since one scoop only provides 3 grams.
Athletic Greens

One scoop of Athletic Greens (12 g) has 50 calories, 6 g of carbs, 2 g of fiber, and 2 g of proteins.
The 75 ingredients are divided into four proprietary blends:
Alkaline, nutrient-dense raw superfood complex: organic spirulina, lecithin, organic apple powder, inulin, organic wheat grass juice powder, organic alfalfa powder, organic chlorella powder, organic barley leaf powder, acerola fruit juice powder extract, and broccoli flower powder, papaya fruit powder, pineapple fruit concentrate, bilberry fruit extract, beet root powder, rose hip fruit powder, carrot root powder, spinach leaf powder, cocoa bean polyphenol extract, grape seed extract, green tea extract, licorice root powder, lycium berry fruit extract, ginger rhizome powder, slippery elm bark powder, and kelp whole plant powder.
Nutrient-dense extracts, herbs & antioxidants: alkaline pea protein isolate, citrus bioflavonoids extract, artichoke leaf extract, citric acid, Rhodiola root dry extract, eleuthero root extract, rosemary leaf extract, milk thistle seed extract, R, S alpha-lipoic acid, ashwagandha root extract, dandelion whole plant dry concentrate, hawthorn berry extract, beta-glucans, policosanol, coenzyme Q-10, stevia leaf powder, and Vitamin K2.
Digestive enzyme and super mushroom complex: astragalus root powder extract, bromelain, burdock root powder, reishi mushroom powder, and shiitake mushroom powder.
Dairy-free probiotics: Lactobacillus acidophilus and Bifidobacterium bifidum.
Just like Huel Greens, Athletic Greens has several high-antioxidant ingredients that can help reduce inflammation and decrease the risk of chronic illness. The formula also contains ashwagandha, which can help reduce stress.
Also, it has other ingredients that can help promote liver function, like milk thistle and reishi mushroom, which can help improve immune function.
However, one of the drawbacks of Athletic Greens is that it might contain ingredients in low doses. For example, the recommended intake for reishi mushrooms is 1,440 to 5,200 mg. (Source)
But the reishi is found in the digestive enzyme and super mushroom complex, which weighs 154 mg. So, it's very likely the ingredient comes in low doses.
Huel Daily Greens vs Athletic Greens: Taste
It's no secret that green powder supplements are not the best tasting. Since they contain several greens, they might produce an earthy beverage. However, companies work very hard to help mask the flavor.
Both options only offer one flavor. So, which one is more appealing to the public?
To determine which has the best flavor, let's take a look at what customers have to say about them.
Huel Daily Greens
Huel Daily Greens has an average 4.5-star rating on its website with over 12,000 reviews. Most people seem to enjoy its flavor, which has a crisp apple and pineapple flavor.
However, some people still mix it with fruits and other ingredients to help mask its slightly earthy taste.
"I've gone through 1 of my initial 2 bags. I think it tastes great, especially after blending it with plenty of water. I will definitely be reordering. I use it to replace one of my daily wf plant based meals. Not having to worry about planning and preparing that one meal every day is a life saver and makes a huge difference in my day. Thanks Huel!" – Lee Ann
"Huel morning smoothie replacement! Huel is an efficient, pretty tasty solution to my meal time. The daily greens have replaced my messily thrown-together smoothies in the am & I'm loving it!" – Jon
Athletic Greens
Athletic Greens also has some very positive reviews. It has an average 4.5-star rating on Amazon with over 3,000 reviews.
Overall, people seem to enjoy the flavor. However, it has a 3.9-star rating regarding its flavor.
It has a slight pineapple flavor which most people seem to enjoy, but others say they need to mix it with other ingredients to help mask the flavor.
"My husband and I have been taking this product since 2014. After years of taking a multivitamin and mineral in pill form we chose to switch to something we could drink. He did the research, I acquiesced, and have never strayed. It tastes good. We feel great. All the ingredients are listed on their website and Chris the Kiwi stays on top of the latest research. The plus of having a good tasting whole food supplement in powdered form is that it can be enjoyed in water alone, in a smoothie, or mixed with other products. I mix mine in water along with aloe vera juice and Braggs ACV. If I have the time and inclination I blend it with a tablespoon of coconut oil." – DJS
Huel Daily Greens vs Athletic Greens: Cost
Green powder supplements are not cheap, especially if they have high-quality ingredients. However, each brand offers different ways to get the formula at more affordable prices.
There is a huge difference in the pricing between Athletic Greens and Huel Daily Greens. Athletic Greens is twice as expensive as Huel Daily Greens.
Here is the pricing breakdown between the two supplements:
Huel Daily Greens
One bottle of Huel Daily Greens costs $56.50 ($1.88 per serving).
However, if you enter their subscription saving, you can save 20%, meaning it reduces the price to $45.00 ($1.50 per serving).
Athletic Greens
Even though Athletic Greens is more expensive than Huel Daily Greens, there are ways for you to save some money.
Here is the breakdown of the pricing for Athletic Greens:
One bag: $99 ($3.30 per serving)
One bag in subscription savings: $79 ($2.63 per serving)
Two bags in subscription savings: $74.50 per bag ($2.48 per serving)
Travel packets: $109 ($3.63 per serving)
Huel Daily Greens vs Athletic Greens: Side Effects
Currently, green powder supplements are safe to take.
However, some people might experience digestive discomforts, such as bloating, gas, stomach cramps, and diarrhea. If this is the case, reduce the dosage in half until your body gets used to it.
Also, make sure you ask your doctor if you can take the supplement, especially if you are taking any chronic medication. There might be some herbs or spices that can cause interactions with certain medications.
Why Choose Supergreen Tonik?
Now, which of the two supplements should you choose from: Huel Daily Greens or Athletic Greens?
While between the two, the best option is Athletic Greens, there are other alternatives to Athletic Greens that offer a better green powder formula.
In this case, if you want the best green powder supplement available, Supergreen Tonik takes the crown.
Supergreen Tonik offers a fully transparent green powder supplement made with 48 ingredients to help improve health. It comes with high-quality ingredients, all with clinically-proven ingredients.
While both Athletic Greens and Huel Daily Greens come in one flavor, Supergreen Tonik offers two flavors. It comes in a delicious mint and berry flavor. So, you have a variety to choose from.
Finally, what makes Supergreen Tonik the best option is that it comes at a cost-effective price, and the company offers a 365-day money-back guarantee.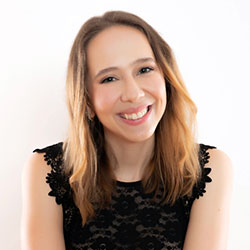 Brenda Peralta is an experienced Registered Dietitian (RDN) and Certified Diabetes Education (CDE). She is a freelance health and nutrition writer based in San Jose, Costa Rica. She has several certifications in sports nutrition, women's health hormones, and gut health.
She enjoys teaching her clients how to achieve sustainable results, all through nutritional education.