Organifi Green Juice is a green powder supplement that contains 11 ingredients to help reduce stress levels, promote weight management, and help detoxify the body. While it seems like a good option, how does it compare to Supergreen Tonik, a high-quality product with 38 ingredients? Here, we'll compare them side to side!
Overview
| | | |
| --- | --- | --- |
| | | |
| Organic Greens | | |
| Dedicated Brain Nutrients | | |
| Serving Size | 12gms | 9.3gms |
| Ingredient Dosages You Can Read | | |
| Multiple Flavors | | |
| Caffeine Free | | |
| Manufactured in the US | | |
| Third party tested | | |
| Vegan formula | | |
| Money-back Guarantee | 365-days | 30-days |
| Free Shipping Options | | |
| Cost per serving (cheapest) | $2.07 | $2.09 |
Important Note: Serving size is important here, Supergreen Tonik contains 23% more ingredient amounts than Organifi Greens. Adjusting for formula size, makes the per serving cost of Supergreen Tonik much cheaper.
Nowadays, more and more people rely on green powder supplements to reach their daily intake of fruits and vegetables. Research shows that only 1 in 10 adults eat the recommended portions for these foods. (Source)
Without adequate consumption of fruits and vegetables, there is an increased risk of inflammation, heart disease, and diabetes.
Undoubtedly, looking for ways to make reaching your daily dose of greens easier is essential. Green powder supplements are a simple way to achieve this since you only need to mix the powdered supplement with the liquid of your choice.
Organifi and Supergreen Tonik are two popular green powder supplements. But, when it comes to choosing the best, which one should you go for?
In this article, we'll compare Organifi and Supergreen Tonik. We'll investigate their benefits, ingredients, taste, costs, and side effects. So, at the end of the article, you'll know what makes Supergreen Tonik stand out.
What Is Supergreen Tonik?
Supergreen Tonik is a high-quality green powder supplement that contains 38 ingredients to help boost health, increase the immune system, and reduce inflammation. Adam Wright created it to fight his symptoms of chronic fatigue. (About our story)
You get 6 organic vegetables, 7 nootropics, 4 ingredients to boost immunity, and 21 essential vitamins and minerals in one scoop.
One of the biggest benefits of Supergreen Tonik is it doesn't have any proprietary blends. It has a fully transparent label. Forget about taking a supplement where you don't know how much of an ingredient you are getting.
After all, no matter if it contains the highest quality ingredients, it might not produce the desired effect if they don't come in the proper doses.
Another benefit is its low-calorie content. One scoop has only 35 calories per serving, 4 g of net carbs, and 3 g of protein.
Pros:
All the greens come from organic sources
Contains 6 dedicated brain nutrients
Fully transparent label
Multiple flavors to choose from
Third-party tested
Vegan-friendly
Offers a 365-day money-back guarantee
Free shipping on orders above $99
Cons:
It doesn't offer a travel size
"Game Changer"
I have taken Human Tonik Super Green for almost 2 months now. I sleep deep, have been through Flu/Cold bugs in my house which missed me. Energy Level is higher, which has motivated me to be more active.
Doug Morash, USA (February 2023)
What Is Organifi?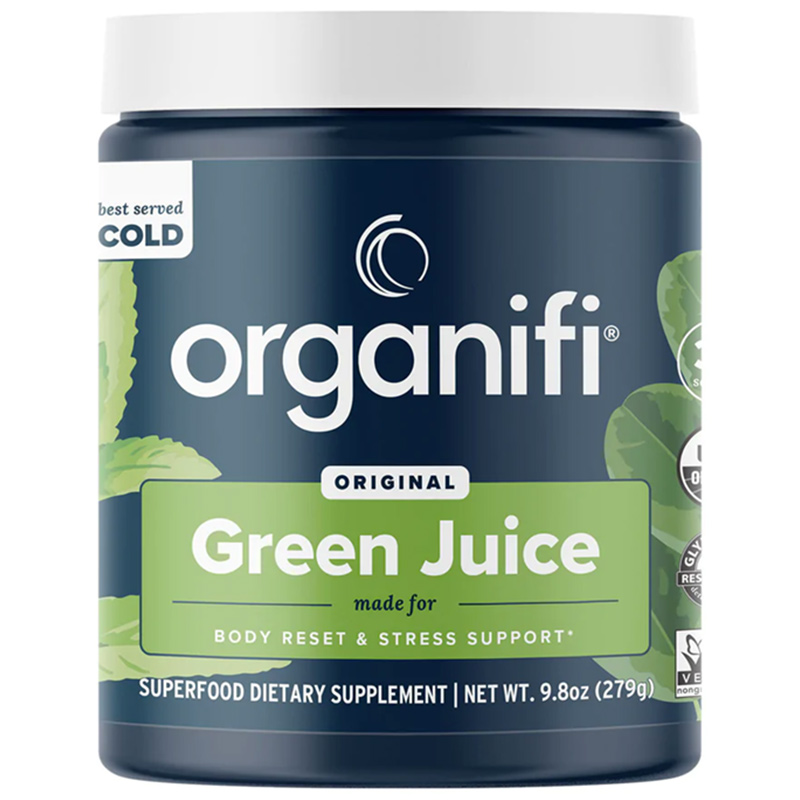 Organifi is a green powder supplement with 11 ingredients to help boost overall wellness. Most of its ingredients are greens which can help decrease inflammation in the body. Additionally, you can find other ingredients like ashwagandha or chlorella.
It is a low-calorie formula partly because one serving is only 9.3 grams in size, it provides 30 calories, 3 g of net carbs, and 1 g of protein.
Pros:
Contains all organic ingredients
Available in two flavors (crisp apple and mint)
USDA-certified organic ingredients
Gluten-free and non-GMO
Third-party testing
Cons:
Has proprietary blends
No nootropics and only contains a small number of adaptogens
Smaller serving size
Organifi vs Supergreen Tonik: Benefits
Green powder supplements can make it easier to consume vegetables while on the go, when traveling, or if you simply don't have the time to buy and prepare your vegetables.
But, besides making your life easier, green powder supplements can also bring several health benefits. 
Now, not all green powder supplements have the same benefits. It all depends on the ingredients found in each formula.
Let's go over the benefits you can obtain from each supplement.
Supergreen Tonik
One scoop of this high-quality green powder supplement can give you several health benefits.
Here are some of the benefits you might experience:
Increased immune system
Can give you an energy boost
Improves brain function
Helps manage stress levels
Promotes high-quality sleep
Organifi
Thanks to its 11 ingredients, Organifi can provide different health benefits. So, what are some of the benefits you might get?
Helps reduce stress levels
Might remove toxins from the body
Can reduce inflammation
Might promote weight management
Organifi vs Supergreen Tonik: Ingredients 
Knowing the supplement's ingredients can determine what health benefits you might obtain. Additionally, it can also help you determine the best time to take the green powder supplement. 
Before we dig into the ingredients' benefits, remember that only Supergreen Tonik offers a fully transparent formula. So, even though Organifi has high-quality organic ingredients, we cannot analyze if they are within the recommended doses.
Supergreen Tonik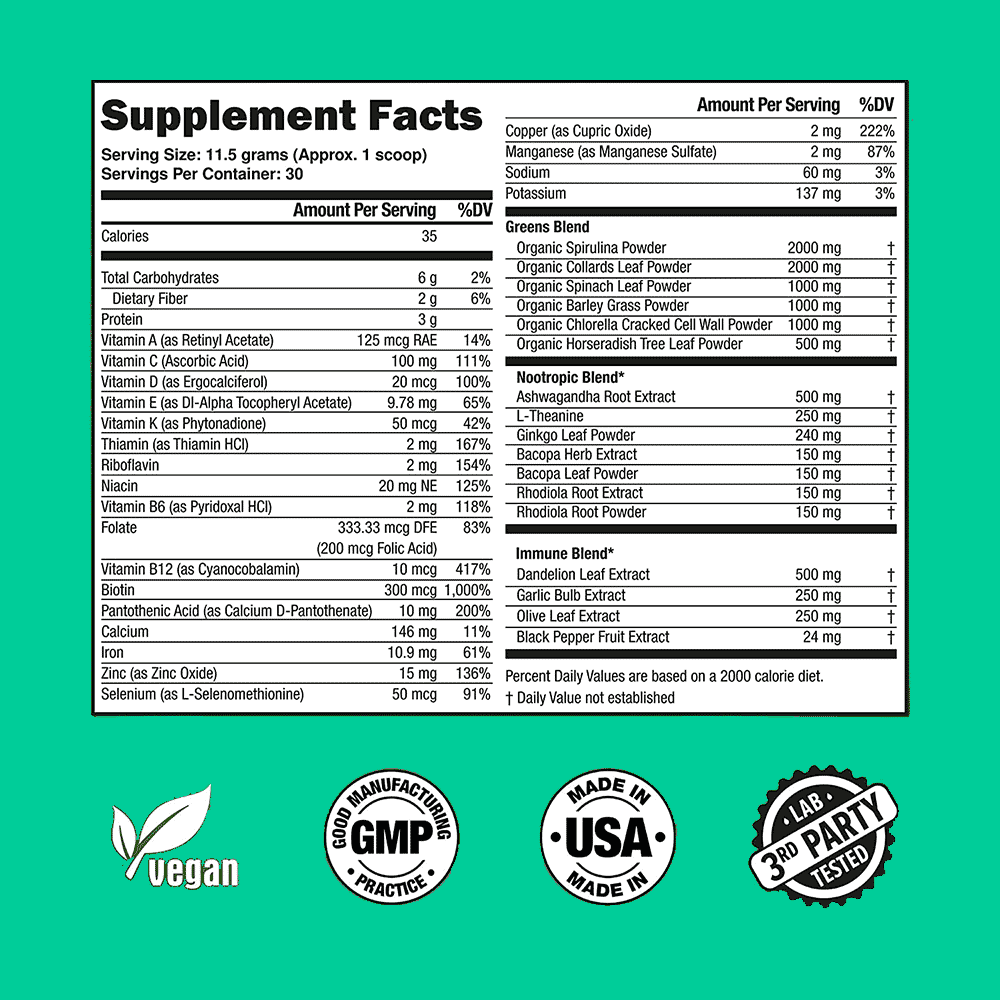 Supergreen Tonik has 38 ingredients, and it comes in three blends.
Green blend
Nootropic blend
Immune blend
So, what makes Supergreen Tonik such a high-quality formula? It all comes down to the ingredients it uses. So, let's talk about the ingredients it has.
The first blend we will discuss is the green blend's formula. It has all the following ingredients coming from organic sources spirulina, collard greens, spinach leaf, barley grass powder, chlorella, and horseradish tree leaf.
All the ingredients above are powerful antioxidants that can help reduce inflammation in the body. In addition, they can also help decrease cholesterol levels which can promote heart health. (Source)
The other blend is the nootropics blend. This formula has ingredients like ashwagandha, Rhodiola, L-theanine, ginkgo leaf powder, and bacopa herb extract.
Ashwagandha is a powerful adaptogen that can help reduce cortisol levels. Lower cortisol levels can help promote a good night's sleep, reduce cravings, and manage weight. (Source)
The final blend is the immune formula. It has ingredients like a dandelion leaf, garlic bulb, olive leaf extract, and black pepper fruit extract. It can help increase your immune system by providing antimicrobial properties and reducing inflammation in the body.
Before moving to Organifi, we cannot forget about all the essential vitamins and minerals in the formula. In every scoop, you get a good dose of vitamin A, vitamin C, vitamin D, vitamin E, vitamin K, thiamin, riboflavin, niacin, folate, vitamin B12, vitamin B6, biotin, pantothenic acid, calcium, zinc, selenium, iron, copper, magnesium, sodium, and potassium. 
Organifi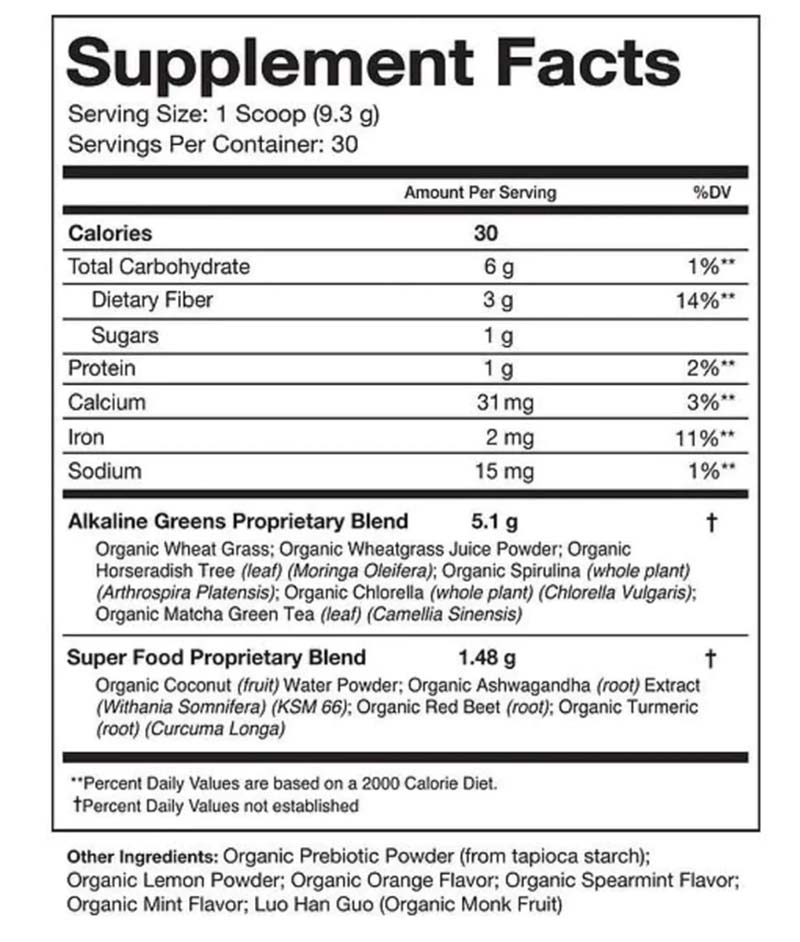 Organifi also contains several high-quality ingredients, but it only has two blends. Remember that all of the ingredients in Organifi come from organic sources. The two blends in Organifi are the greens blend and the superfood blend.
The greens blend contains wheat grass powder, wheat grass juice powder, moringa powder, spirulina powder, chlorella powder, and matcha green tea powder. 
Here, you get powerful antioxidants that can help reduce inflammation in the body. Additionally, it contains ingredients like matcha green tea, which can support brain function. (Source)
The superfood blend formula contains the following ingredients coconut water, ashwagandha, lemon powder, red beet powder, and turmeric extract.
Ingredients like red beetroot can help increase performance and lemon powder can help improve digestion and reduce inflammation. (Source)(Source)
But, while Organifi contains high-quality ingredients, we cannot determine the doses for each one. This means that no matter if it contains good ingredients, it might not provide the desired effects if they don't come in the right doses.
"Getting my daily energy dose from SuperGreen Tonik"
I'm getting my daily energy dose from SuperGreen Tonik and It helped me improve my sleep/ recovery. it's simply delicious!
Max Filippov, USA (February 2023)
Organifi vs Supergreen Tonik: Taste
We all know that green supplements might not be the most delicious thing on the planet. However, some options offer to make greens taste good and refreshing.
So, taste plays a vital role in which green supplement you choose. After all, you don't want to take something that tastes like a glass of medication every day. You want to pay for something you enjoy drinking.
Supergreen Tonik
According to different reviews, Supergreen Tonik is one of the best-tasting green powder supplements. There are two different options for you to choose.
There are two flavor options to choose from. The refreshing mint flavor of the newer berry one!
Since taste can be very subjective, let's see some of the reviews left by some customers.
Hopped on the green tonic bandwagon because I knew I wasn't getting my full vitamins fill. I have to say – I've started every morning with this over the last 10 days, and a) it tastes surprisingly solid, and b) my energy levels have gone up in the morning, replacing my standard coffee needs. Feels good knowing I'm getting the right vitamins, the right energy, and some satiation in the morning, without having to plug my nose to get it down.

Suri
I look forward to drinking this every day. Very refreshing and tasty!

Matthew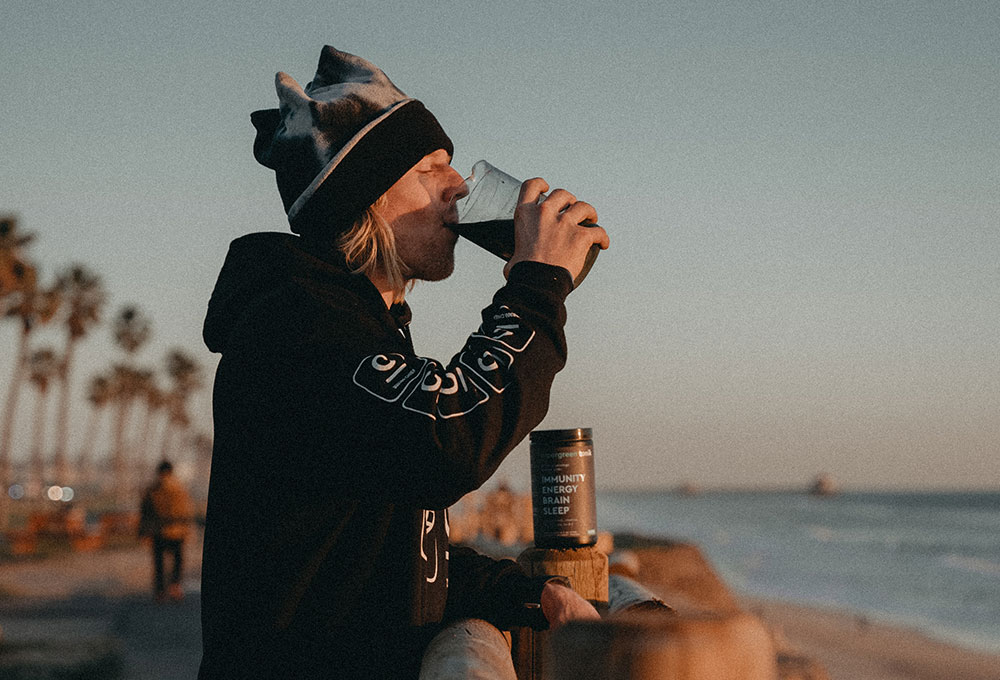 Organifi
Organifi also offers two flavors: mint and crisp apple. According to the reviews on their website, Organifi also offers good mint flavor.
So, when it comes to flavor, it all depends on which one you prefer, apple or berry.
Let's see what reviews customers left on the website.
I've been taking this green juice each A.M since I'm not a big veggie eater. It taste much better than other green juices I've had in the past.

Maxwell
Tastes kind of like mint and matcha, and I like it a lot but really love it mixed with Red or Glow!

MR
Organifi vs. Supergreen Tonik: Cost
High-quality ingredients are going to cost you. So, high-quality supplements will not be cheap, especially if they contain the right ingredients and doses.
Both Organifi and Supergreen Tonik are high-quality supplements. But how do they compare in price?
Supergreen Tonik
One bottle of Supergreen Tonik costs $87, which means you pay $2.90 per serving.
If you want to have incredible savings, you can buy in bulk, significantly reducing the price. For example, if you opt for the 90-day supply (3 bottles), you pay $75 per bottle, reducing the price to $2.50 per serving.
Or, you can get the 180-day supply (6 bottles) and pay $62, lowering the serving size even more. You can end up only paying $2.07 per serving.
On top of that, if you purchase more than $99 at the store, you get free shipping.
Organifi
One bottle of Organifi will cost you $69.95, meaning you pay $2.33 per serving.
If you want to save money, you can prepay for free shipping and get an additional 10% off. But, keep in mind you need to pay in advance.
You can also save on shipping costs, but you need to spend more than $250 to get to have this option available.
While Supergreen Tonik and Organifi have similar prices, remember that Supergreen Tonik has almost 3 times the ingredients and comes in the right doses that can provide different health benefits.
Organifi vs. Supergreen Tonik: Side Effects
Green powders are generally considered safe, but like any supplement, there is always the risk of getting a side effect. The most common side effects are digestive issues like stomach cramps, diarrhea, bloating, and gas.
For those who experience digestive issues, you can always cut back the dosage in half until your body gets used to it. Once you don't have any problems, you can start taking a full scoop.
Other issues that might arise are possible allergic reactions. To avoid this, make sure you check the ingredients list.
Why Choose Supergreen Tonik
Supergreen Tonik offers three times the ingredients as Organifi Green Juice. While Organifi is still a high-quality product, the fact it has a smaller serving and it hides behind proprietary blends makes you wonder how effective the doses are.
If you are looking for a fully transparent formula where you get high-quality ingredients with the correct doses, Supergreen Tonik is the clear winner.
On top of that, you also get a 365-day money-back guarantee. So, if you don't like the product (which we are confident you won't have any complaints), you can ask for a refund.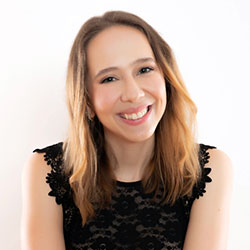 Brenda Peralta is an experienced Registered Dietitian (RDN) and Certified Diabetes Education (CDE). She is a freelance health and nutrition writer based in San Jose, Costa Rica. She has several certifications in sports nutrition, women's health hormones, and gut health.
She enjoys teaching her clients how to achieve sustainable results, all through nutritional education.