8Greens is an easy-to-carry way to boost your vegetable intake. In a tablet, you get a daily dose of green superfoods. However, when compared to a high-quality green powder supplement like Supergreen Tonik. Where does it stand? Here, we'll take away the chore of figuring it out.
Overview
| | | |
| --- | --- | --- |
| | | |
| Organic Greens | | |
| Dedicated Brain Nutrients | | |
| Serving Size | 12gms | 4.6gms (690mg formula) |
| Ingredient Dosages You Can Read | | |
| Multiple Flavors | | |
| Caffeine Free | | |
| Manufactured in the US | | |
| Third party tested | | |
| Vegan formula | | |
| Money-back Guarantee | 365-days | 30-days |
| Free Shipping Options | | |
| Cost per serving (cheapest) | $2.07 | $1.30 |
Green powder supplements are a great way to boost vegetable intake. While they won't completely replace vegetables, they can be an addition to a healthy diet.
According to the CDC, only 10% of adults manage to achieve the daily intake of fruits and vegetables. So, green powder supplements can help you reach your vegetable intake and create awareness regarding its consumption. (Source)
There are hundreds of green powder supplements available. This means choosing one can become a challenging task.
8 Greens is a green powder supplement that offers different ways to boost your vegetable intake. Instead of powdered form, you can find them in effervescent tablets, gummies, or lollipops.
But how does it compare to a high-quality formula like Supergreen Tonik?
In this article, we'll compare 8 Greens and Supergreen Tonik side to side. In the end, we'll determine which is the best green powder option
What Is Supergreen Tonik?
Supergreen Tonik is a green powder formula with 38 high-quality ingredients. You get six organic vegetables, seven nootropics, four ingredients to boost your immune system, and 21 essential vitamins and minerals in one scoop.
The founder of the supplement is Adam Wright. He created the supplement to help decrease his symptoms of chronic fatigue.
After years of dealing with this issue, he developed a scientifically proven formula that can help improve overall wellness.
Pros:
Contains all organic greens
Has six dedicated nutrients for the brain
Has a fully transparent label
Multiple flavors are available (mint and berry)
Third-party tested
Suitable for vegans
Offers a 365-day money-back guarantee
Free shipping on orders over $99
Cons:
Doesn't have a travel size
What Are 8Greens?

8Greens is a green powder supplement that comes in tablet form. In one tablet, you get eight green vegetables. It only has 15 calories per serving and comes in different flavors for you to try.
The company's founder, Dawn Rusell, created the company to help people consume more vegetables.
You only need to place one tablet of 8Greens in water to boost vitamin C, B12, B6, and zinc.
Pros:
Made with organic greens
Easy to carry around and to drink
Offers four flavors (lemon-lime, peach tea, blood orange, and melon)
Has bulk savings
Cons:
Only contains greens
Few ingredients are underdosed
Small serving size
Uses proprietary blends
8Greens vs Supergreen Tonik: Benefits
There are several benefits to consuming green powder supplements. And, 8Greens and Supergreen Tonik are no exception. They are supplements that can improve overall wellness thanks to their green ingredients.
But, each has its benefits based on the ingredients they use.
So, let's take a closer look at each green supplement's benefits.
Supergreen Tonik
Thanks to its 38 ingredients, Supergreen Tonik can offer several benefits.
It can boost the immune system
Might increase energy levels
Can reduce inflammation
May boost brain function
Can help reduce stress levels
Might improve sleep quality
"Getting my daily energy dose from SuperGreen Tonik"
I'm getting my daily energy dose from SuperGreen Tonik and It helped me improve my sleep/ recovery. it's simply delicious!
Max Filippov, USA (February 2023)
8Greens
While the ingredients list is not as extensive as Supergreen Tonik, there are still several benefits that 8Greens offers.
Can reduce inflammation
May boost the immune system
Might improve gut health
8Greens vs Supergreen Tonik: Ingredients
The ingredients are among the most important things in a green powder supplement. After all, it is what makes each supplement unique.
Analyzing and understanding the ingredients plays a crucial role in helping determine the benefits you can expect and if the supplement is as effective as the company claims.
But, before discussing each green powder's ingredients, we must highlight each company's nutrition label.
Most companies use proprietary blends, meaning they don't detail how much of each ingredient they use. This makes analyzing the label challenging since you don't know how much each ingredient is used.
The problem relies upon that no matter if the ingredient is high-quality, it might not produce the desired effect if it doesn't come in the correct doses.
Keep in mind that out of the two supplements, Supergreen Tonik is the only one that has a clear label, meaning you know exactly what you are getting.
On the other hand, 8 Greens use proprietary blends, so you cannot determine how much of each ingredient they use.
Let's talk about each supplement's ingredients.
Supergreen Tonik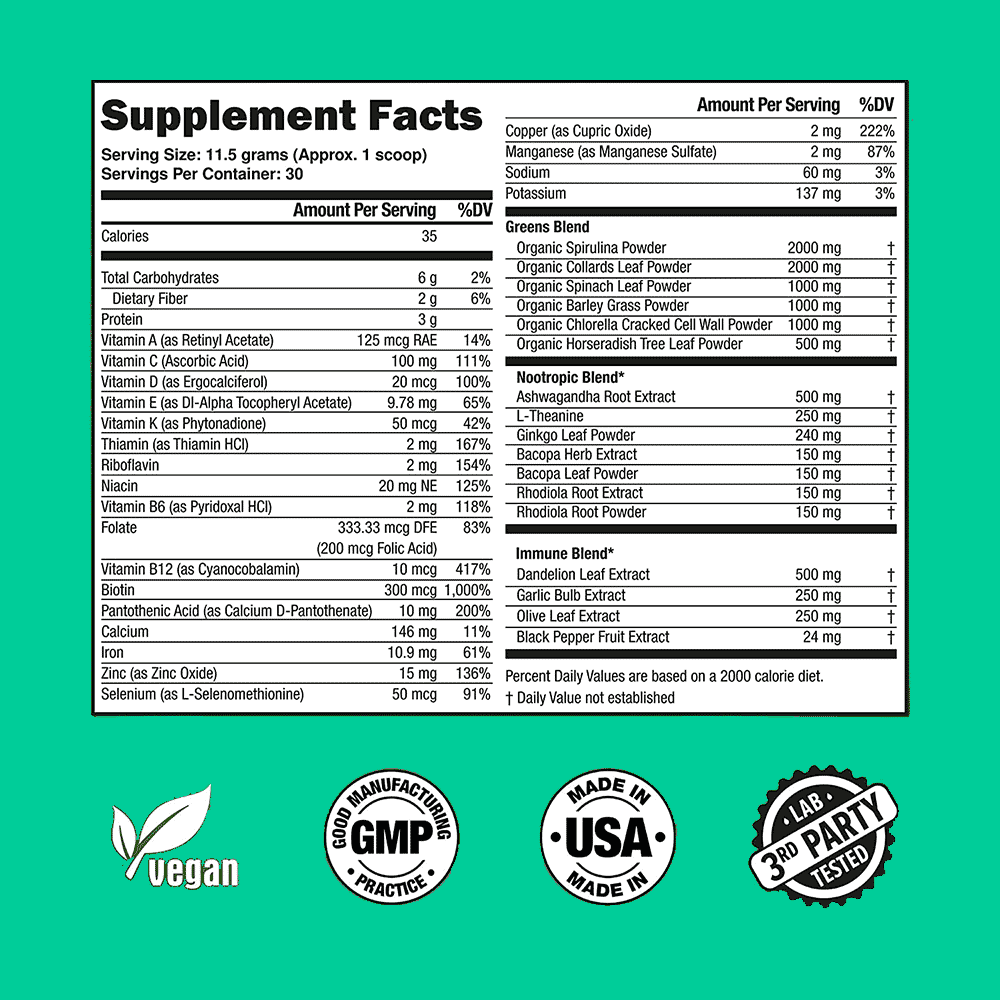 Supergreen Tonik has 38 powerful ingredients, which are divided into three blends:
Green blend
Nootropics blend
Immune-boosting blend
You find spirulina, collard greens, spinach leaf, barley grass powder, chlorella, and horseradish tree leaf in the greens blend.
All the ingredients in the green blend are powerful antioxidants, meaning they can help reduce inflammation.
And some powerful ingredients like spirulina can help reduce cholesterol and triglyceride levels. (Source)
You find ashwagandha, L-theanine, Rhodiola, ginkgo leaf powder, and bacopa herb extract in the nootropics formula. It can help reduce stress, promote sleep, and improve cognitive function.
For example, ashwagandha is a well-researched adaptogen (a substance that can help cope with stress). A study showed that participants taking at least 250 mg of ashwagandha daily significantly reduced cortisol levels. (Source)
Finally, the immune-boosting formula finds dandelion leaf, garlic bulb, olive leaf extract, and black pepper fruit extract. Thanks to its antioxidant properties, it contains ingredients that can help boost immune function.
Keep in mind that in Supergreen Tonik, you get essential vitamins and minerals such as vitamin A, vitamin C, vitamin D, vitamin E, vitamin K, thiamin, riboflavin, niacin, folate, vitamin B12, vitamin B6, biotin, pantothenic acid, calcium, zinc, selenium, iron, copper, magnesium, sodium, and potassium. 
Before we start talking about 8Greens, it is worth mentioning that Supergreen Tonik contains clinically proven doses of its ingredients. So, you are getting high-quality ingredients, and in the doses, they are meant to be.
8Greens

There are eight main ingredients in the 8Greens formula: spinach, aloe vera, kale, wheatgrass, kale, turmeric, barley grass, blue-green algae, spirulina, and chlorella. 
But, besides the main ingredients, you can also find corn starch, microcrystalline cellulose, vegetable juice (for coloring), citric acid, sorbitol, natural flavors, safflower oil, and stevia.
All of the ingredients in the 8Greens formula are high in antioxidants, meaning they can help reduce inflammation in the body.
But, there are a couple of ingredients that provide additional benefits.
Aloe vera is a natural laxative, meaning it can help improve digestion. It also seems to affect glucose control positively. (Source)
Finally, chlorella can help detox the body since it binds to heavy metals. (Source)
As mentioned, 8Greens uses proprietary blends, meaning we cannot fully determine how much each ingredient is used.
However, some ingredients are likely underdosed due to their small serving size.
For example, according to Examine.com, the dosage for chlorella goes from 6-10 g. But, the total proprietary greens blend is 690mg, meaning it doesn't supply the recommended dosage for this ingredient. (Source)
Thus, it is likely other ingredients can also be underdosed.
"Replaced my AG1 subscription!"
Love that with Tonik you know exactly what you are getting; not the proprietary blend…Our family took Athletic Greens for a few years; but always wondered, " Is the product really good or are they really good at marketing?" We decided it was the marketing and switched to Tonik.
Leah, USA (February 2023)
8 Greens vs. Supergreen Tonik: Taste
It's no secret most green powder supplements don't taste great. Even though there are ways to make a green powder taste good, why purchase something you will not enjoy drinking?
We know taste is subjective, but let's look at the flavors each company offers and what people say about the product.
Supergreen Tonik
Supergreen Tonik offers two flavors: mint and berry.
For those who want a refreshing beverage, mint is the right choice. For those who prefer a sweeter beverage, the berry is a better option.
So, what are people saying regarding the product?
Very good tasting with no bad aftertaste. A fine powder, so it mixes very easily. I wish I would have found out about this enjoyable tonik sooner."

Cory
The berry flavour is good mixed in water but delicious when thrown into my smoothie. I chose this product over AG1 and Organifi as it is more transparent with no proprietary blends, organic, and doesn't have extremely high amounts of certain vitamins and minerals."

Jeff
8Greens
One big advantage of 8Greens is its wide variety of flavors. Most green powder supplements come in only one flavor, but 8Greens has four flavors for you to try: peach tea, lemon-lime, melon, and blood orange.
Based on customer reviews, 8Greens seems to have a pleasant flavor.
Let's see some of the reviews.
Full disclosure: Usually, I HATE anything like this. I've tried other brands, and they tasted chalky, smelled badly, and were tough to get down. While this tablet has a bit of a funky scent after it dissolves, it's doable. What's more, I tried the peach tea flavor, and it kind of gives me Snapple peach tea vibes – not bad at all. I like that it's fizzy and that I can easily add it to my daily water bottle. It does take a little bit to dissolve, but nothing major. And I'm absolutely floored at the number of nutrients it contains. I love that it helps me get some much-needed greens and vitamins into my system in a simple way, and I've already noticed improved levels of cognition and energy. Super easy to add to my day-to-day routine. Win!"

Mandy
Sometimes you just need a little green. I went on a trip to Italy, knowing they're notoriously bad with offering vegetable options, so I took a packet of 8Greens. Helped keep me feeling healthy while enjoying all the pasta Italy offers.

KC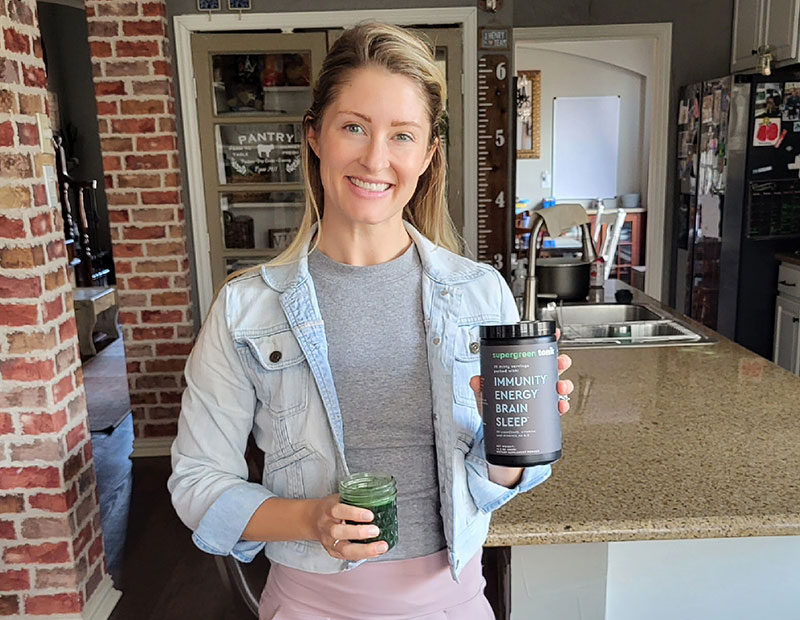 8Greens vs Supergreen Tonik: Cost
Green powder supplements are not cheap, especially if they use high-quality ingredients.
There is a big difference between 8 Greens and Supergreen Tonik.
Remember that Supergreen Tonik contains 38 ingredients while 8Greens only has 8.
Supergreen Tonik
One bottle of Supergreen Tonik costs $87, meaning you pay $2.90 per serving.
But don't worry. There are amazing savings if you buy in bulk.
Purchasing three tubs (enough for 90 days) will reduce the serving size to $2.50. And, if you purchase six tubs (enough for 180 days), it brings down the serving size even more. You only pay $2.07 per serving.
On top of that, you get free shipping on orders over $99.
8 Greens
One tube of 8Greens costs $13.99, meaning you pay $1.40 per tablet.
But the company also offers bulk and subscription savings.
If you purchase three tubes (30 tablets), or six tubes (60 tablets), it lowers the tablet cost to $1.30 per tablet.
And, if you subscribe to their monthly delivery, you can save 15%. So, instead, you pay $1.10 per tablet.
8 Greens vs Supergreen Tonik: Side Effects
Overall, green powder supplements are safe to take. However, like any other supplement, there is always a chance of having a side effect.
The most common side effects you might get are digestive issues.
You might experience bloating, gas, stomach cramps, and diarrhea. But don't worry. These symptoms usually go away when your stomach gets used to the supplement.
If it doesn't happen, you can decrease the dose. For example, instead of taking one scoop, you can take only half a scoop to give your digestive system time to adjust.
Why Choose Supergreen Tonik

Supergreen Tonik contains more ingredients than 8 Greens. It has almost five times the number of ingredients. It only offers a larger serving size, with clinically proven ingredients supplied in the correct doses.
On top of that, Supergreen Tonik offers two delicious flavors for you to try. And, if you don't like it, there is a 365 money-back guarantee.
Finally, even though 8 Greens is a cheaper alternative, in the end, with Supergreen Tonik, you are paying a fair price. After all, you are getting more high-quality ingredients that can help improve overall wellness.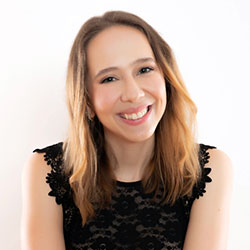 Brenda Peralta is an experienced Registered Dietitian (RDN) and Certified Diabetes Education (CDE). She is a freelance health and nutrition writer based in San Jose, Costa Rica. She has several certifications in sports nutrition, women's health hormones, and gut health.
She enjoys teaching her clients how to achieve sustainable results, all through nutritional education.